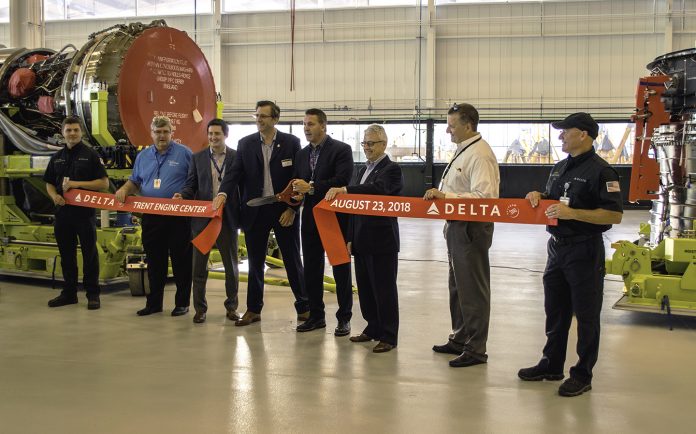 Delta's new 127,000-square-foot state-of-the-art engine repair shop had its first milestone last week — its grand opening. The new shop will enable Delta to perform maintenance on engines with the most sophisticated and advanced technologies — in particular, the next-generation powerplants featured on Delta's Airbus A350s and forthcoming A330-900neo aircraft.
The new capability also stands to benefit the airline's Maintenance Repair and Overhaul or MRO business as Delta will work on engines from other airlines and aircraft operators. Delta TechOps serves more than 150 aviation and airline customers from around the world through its MRO business, specializing in high-skill work such as engines, components, avionics, airframe and line maintenance.
Delta will be preparing the shop in the next few weeks, with its first engine induction set to take place in September. The airline is anticipating the first induction of the shop will be one of Virgin Atlantic's Trent 1000 engines.
To build the brand new engine shop, Delta converted several large hangar bays at the airline's TechOps facility in Atlanta and created a workshop consisting of an engine assembly and disassembly area, a kitting parts area, engines work-in-progress area, shop materials and supplies (Kanban) area, life limited parts center of excellence, and repair and support area. The facility stands out from the adjacent aircraft hangar bays with a wall of glass consisting of more than 2,000 pieces of glass and stands seven stories tall underneath the historic Fly Delta Jets sign.
"We are incredibly proud of our new state-of-the-art engine shop, and what it means for Delta and our enhanced MRO capabilities," said Don Mitacek, Senior Vice President of TechOps. "Our investment in new maintenance projects and facilities solidifies Delta's position as the largest and best MRO provider in North America, and will continue to allow our people to provide exceptional service and unmatched reliability."
Some highlights of the new shop include:
A total of 66 6′ diameter concrete piers with an average depth of 42′
1020 tons of structural steel or the equivalent to 11 Boeing 737s
(10) 25-ton bridge crane hoist/carrier assemblies
130,000 square feet of epoxy flooring or the equivalent of 2.5 football fields
Six 25-ton high-bay cranes located across four bays to provide 10 hook-up points
The shop will support the airline's partnership with Rolls-Royce.
In October 2015, Delta and Rolls-Royce signed a formal agreement for Delta TechOps to become an Authorized Maintenance Center for Rolls-Royce engines. Under the agreement, the airline will provide engine services for the latest generation Trent XWB, Trent 1000 and Trent 7000, in addition to the BR715, which had already been added to engine capabilities.
Additional TechOps Investments
To further enhance engine maintenance capabilities, Delta TechOps has invested in other major projects including a new test cell, hot section repair shop and an additive manufacturing shop.
Delta TechOps will open the world's largest test cell this December. When it opens, the new test cell will be capable of safely running a mounted, stationary engine at full power with 150,000 pounds of thrust. The test cell section will stand 48 feet tall, with inlet and exhaust sections measuring 66 feet and 78 feet respectively.
The hot section repair shop, which spans 27,000-square-feet, will allow Delta to perform turbine section component repairs in-house versus using third party repair facilities to conduct the work, reducing the cost of materials, providing better visibility over the process, driving quicker turn times and providing better on-site support.
Additionally, in April 2018, Delta and Pratt & Whitney signed an agreement selecting Delta TechOps to become a major MRO provider for the next-generation Pure Power PW1100G and PW1500G engines, the power plant for Delta's A321neo and A220 fleets.
During the past three years, Additive Manufacturing or 3D printing has become more prominent at Delta. TechOps is pursuing three broad streams of Additive Manufacturing technologies for parts. The first is polymeric and polymeric-composite parts for cabin interiors, part masking and prototype tooling. The second is weldable metallic alloys for engine, components and aircraft structural parts. The last is traditionally unweldable cast alloys and/or single crystal super alloys.
Several printers are already on site at TechOps and the Additive Manufacturing team is using it to produce tools, proto-typing and masking fixtures as well as for training.