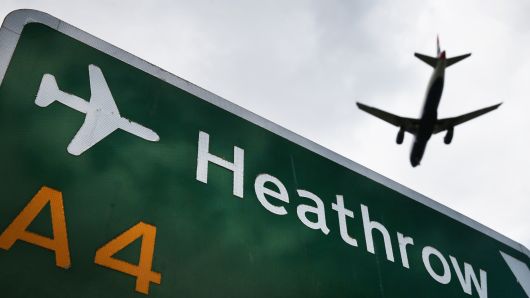 The military is helping police after sightings of a drone temporarily halted flights at Heathrow airport on Tuesday.
Scotland Yard said a "full criminal investigation" had been launched into the incident – and that officers were among those to see the drone.
Departures from the west London airport were suspended for about an hour.
It comes after thousands of passengers were caught up in disruption at Gatwick Airport last month following reports of drone sightings.
Heathrow airport, which is also working with the Met Police, said it was monitoring the situation and apologised to passengers affected by the disruption.
Speaking on Wednesday morning, the airport said "business was back to normal".
The Met's Commander Stuart Cundy confirmed military assistance had been brought in but would not discuss tactics in detail.
He said the drone sighting was reported just after 17:00 GMT, with departing flights stopped as a precaution while initial inquiries were made.
"We are carrying out extensive searches around the Heathrow area to identify any people who may be responsible for the operation of the drone," he said.
"The illegal operation of drones at an airfield is extremely dangerous."
Transport Secretary Chris Grayling said during the incident that he was in contact with the airport about the drone sighting, and had spoken to the home secretary and defence secretary.
BBC cameraman Martin Roberts, who works with drones, said he was driving on the M25 past Heathrow airport at about 17:45 GMT when he saw what he believes was a drone.
"I could see, I'd say around 300 feet up, very bright, stationary flashing red and green lights, over the Harmondsworth area," he said.
"I could tell it was a drone – these things have got quite distinctive lights – not a helicopter."
Gatwick said last week that it had spent £5m to prevent future attacks. Heathrow also confirmed it would be buying systems to guard against drones.
And it was announced this week that police would be given new powers to tackle the illegal use of drones.
In light of the Heathrow incident, British Airline Pilots' Association general secretary Brian Strutton called on ministers to further strengthen drone legislation and to ensure airports invested in protection technology.
"It's time to act swiftly and decisively," he added.
Speaking to ITV, Cabinet Office minister David Lidington said: "Clearly, the government is looking at the law to see whether there are ways in which it could be strengthened."
He added that airports also needed to "step up" investment in technology to detect and stop drones from flying.
BBC transport correspondent Tom Burridge said while the "significant" incident did not cause the same disruption as at Gatwick, it raised the question of how UK airports can deal with drones.
While they are looking at the latest technology, it is clear they are "playing catch-up" he said – adding that the aviation industry had been calling for "drastic action on this for months".
A couple of hours after the first reports of a drone in the skies above Heathrow, it was business as usual in the Terminal 5 departure lounge – in a low blow to Gatwick, one member of staff told me it's because "we're a good airport".
Although flights were up and running again pretty quickly, there are still plenty of passengers who have faced disruption.
One of those is Catriona Walsh, who was on a flight from Basel.
Ms Walsh, who was doing a couple of days of work despite being on maternity leave, said her flight was held on the runway for about 50 minutes as staff told passengers about the drone.
"It was all calm – frustrating rather than worrying," she said.
Michael, a fellow passenger on the flight who did not want to provide his surname, was less optimistic.
"I was worried I might have to camp here," he said.
He said the problems here and at Gatwick have shown "exactly how to shut a country – this country – down", adding that police need to "just shoot drones down" as soon as they are sighted.
More than 140,000 passengers at Gatwick were affected during 36 hours of chaos between 19 and 21 December.
About 1,000 flights were cancelled there over three days due to the drone sightings.
BBC News