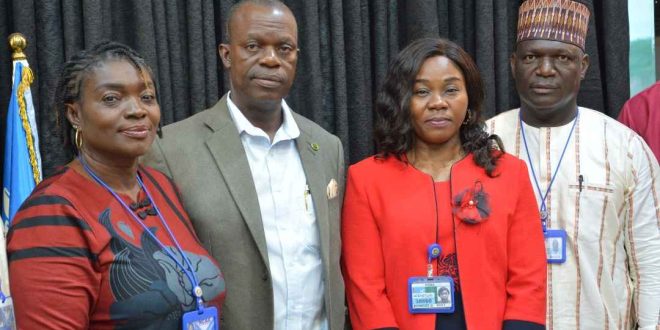 Outgoing General Manager, Public Affairs, Mr. Sam Adurogboye has handed over to Mrs. Carol Adekotujo as the new acting Head of Public Affair for the Nigeria Civil Aviation (NCAA). Mr. Adurogboye handed over to Mrs. Adekotujo who was an Assistant General Manager (Public Relations), as he is expected to proceeded on pre-retirement leave.
During the handover ceremony which held at the NCAA Corporate Headquarters in Abuja on Monday, Mr. Adurogboye tasked all relevant stakeholders to accord her necessary support.
He said the new spokesperson for the NCAA is highly competent and he has no doubt in her capacity to deliver on the job even as he pledged his willingness to continue to support her until he retires on October 14th, 2023.
"I will continue to be available to support her. I am fully persuaded that she's capable of running the affairs of the department", he said.
He also tasked her to be proactive because of the peculiarity of her office and represent the image of the Authority positively.
In her reaction, Mrs. Adekotujo expressed gratitude for the opportunity to serve. She promised to work with the other members of staff harmoniously and also strive to maintain the positive image of the Authority.
Also present at the handover was Mr. Anthony Ayasal, the General Manager (Admin) who represented the Director, Administration, and Ms. Uloh Ikwo, the GM Consumer Protection.
Commenting, Mr. Ayasal thanked Mr. Adurogboye for his selfless service to the NCAA adding that management appreciates his services.
He noted that the General Manager has effectively worked with journalists to promote the corporate image of the NCAA and charged the new spokesperson to imbibe the same.
Also commenting, Ms. Uloh Ikwo, said history is made with the successful handover.
"Today is a day of pride, success, and achievement. It is a day to be proud of" she said.
She reiterated the need for Mr. Adurogboye to continue to support the department anytime he is called upon. "Don't shut your phones on us" she requested.