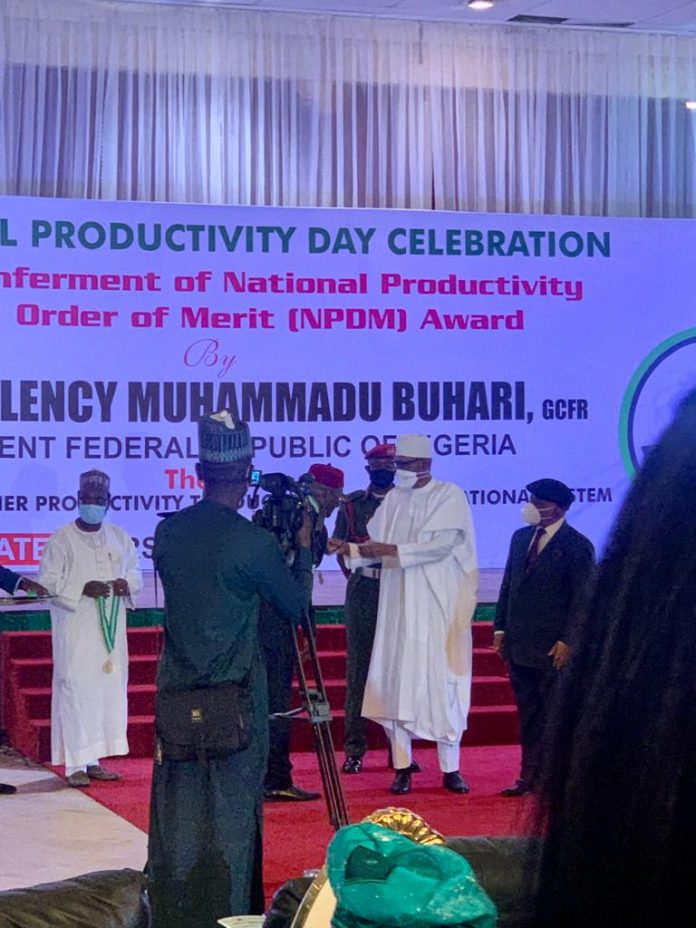 President Muhammadu Buhari, on Thursday, conferred the Chairman and Chief Executive Officer of Air Peace, Barrister Allen Onyema with a National Productivity Order of Merit (NPOM) Award.
The award was given during the 19th National Productivity Day ceremony in Abuja, as Onyema was recognised in the Employers of Labour category. He was praised for his giant strides in entrepreneurship, massive job creation, overall economic achievements and for his humanitarian activities.
Receiving his award, Onyema expressed his gratitude to the President, and the Ministry of Labour headed by Senator Chris Ngige. The Air Peace Chairman reiterated his dedication to serve the country. According to him, he would continue to use his entrepreneurship to impact Nigeria's economy and carry out more social impact initiatives. Onyema further noted, "Nigeria is our country and we all must do all we can to take her to greater heights".
Other distinguished personalities recognised in the same category as Onyema, were Mike Adenuga, Jim Ovia, Abdul Samad Rabiu and Chindeum Okereke.
On the National Productivity Order of Merit Award, Senator Chris Ngige stated that it is a positive step by the government to institutionalise productivity consciousness and excellence in service, amongst workers and organisations in Nigeria.
Other objectives of the Award are to reward the most productive workers and organisations in the public and private sectors for their diligence, high performance, high productivity and research achievements; to foster the spirit of healthy competition amongst workers, firms and companies in Nigeria, and to encourage the spirit of self-reliance.
Onyema established Air Peace in 2014, and in less than a decade, the airline has the largest fleet in West Africa, and an employee count of over 3000 Nigerians. He is a renowned entrepreneur who came into limelight in 2019, when he evacuated hundreds of Nigerians from South Africa during the Xenophobic attacks.
Following that intervention, he has made more moves for the country's citizens. These include evacuating many Nigerians from India, Thailand, Malaysia and some other African countries,during the lockdown, when some Nigerians were unable to pay for tickets to bring them back to Nigeria.
Furthermore, Onyema has been involved in several social investments which have impacted Nigerians in various ways, especially the deployment of aircrafts for rescue flights during lockdown in 2020, corporate philanthropy, massive employment, and other social impact initiatives.
Before the establishment of Air Peace, Onyema started the peace initiative that led to the end of violent militancy in the Niger Delta through his Nonviolence Transformation Programmes. He has also made successful strides in advancing Nigeria's aviation industry, including being the launch customer of the Embraer 195-E2 airplanes in the whole of Africa.