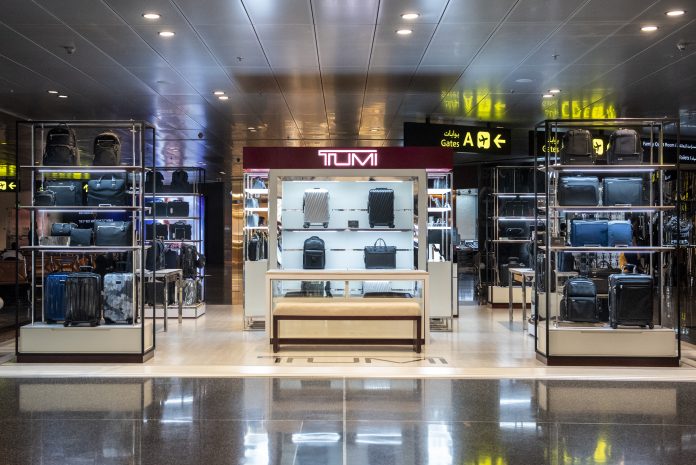 Qatar Duty-Free (QDF) has partnered with TUMI to launch TUMI's first ever duty-free pop-up store in the Middle East. The TUMI store will be the ultimate destination for travellers looking for a unique brand experience whilst transiting or departing from the award-winning Hamad International Airport (HIA). The internationally known brand is recognized for its outstanding line of travel luggage and accessories.
The pop-up store will include a TUMI embossing machine, allowing passengers to personalize their favourite TUMI purchase and make it their own. Passengers will be able to emboss their initials free of charge on any TUMI product they buy.
Head of Qatar Duty-Free, Mr. Thabet Musleh, said: "We are delighted to partner with TUMI to open this exclusive pop-up store at our home and hub, HIA. At QDF, we are constantly searching for the next best thing to offer our customers to enhance their experience prior to their departure.
"Qatar Duty-Free is constantly expanding its offerings by partnering with a range of luxury brands to provide the most innovative and enjoyable experience for customers shopping with us. It is always a delight to create memorable experiences for passengers, giving them an experience worth travelling for."
TUMI Middle East Business Head, Mr. Shaheen Jamil, said: "We are pleased to partner with Qatar Duty-Free to launch our latest pop-up store, giving travellers the opportunity to experience our brand exclusively and personalize their products with the TUMI embossing machine. This is the first time we have launched a pop-up concept in partnership with a duty-free retailer in the Middle East, and we are delighted to be showcasing our best selection of new season products at Qatar Duty-Free."
QDF boasts more than 90 elegant boutiques and luxury, high-end stores, as well as more than 30 restaurants and cafés covering an area of 40,000 square metres at HIA, providing travellers with a world-class shopping experience under one roof. Luxury brands also available at the five-star airport include Tiffany & Co., Gucci, Bulgari, Hermès, Hugo Boss, Moncler, Rolex, and Harrods.
TUMI is an iconic business, accessory and travel lifestyle brand that strives to provide customers with innovative and stylish products while maintaining impeccable standards. The brand offers high-end travel luggage along with accessories such as belts and electronics, making it a must-have brand for the global traveller.