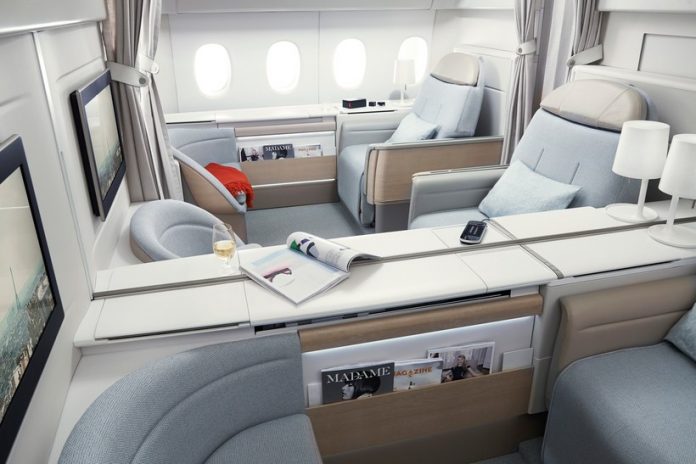 While many airlines have folded their first class into business in the midst of strict corporate travel policies, a few have pushed their suites to soaring new heights. If you're looking for the best in the sky, these first-class cabins are everything—and more.
Singapore Airlines A380 Suites
Singapore Airlines A380 Suites
Readers' Choice Award-winning Singapore Airlines has doubled down in recent years to create what's widely regarded as the single finest commercial flying experience. That's not just hyperbole—at 50 square feet, it wins by measurement as well.
On board, you're in a true suite, with a reclining swivel chair capable of facing out toward the windows for reflection or in toward the cabin for dining, a desktop for work, and separate bed. A tablet controls everything for you, from dimming lights to changing the lights' colors. You can carry it with you throughout the suite, too, and use it whether you're in your chair or lounging on the bed. And then there's the 32″ television, which wouldn't look out of place in most living rooms. Singapore also went one step further for traveling duos: certain suites can be combined to form a 100-square-foot palace in the sky.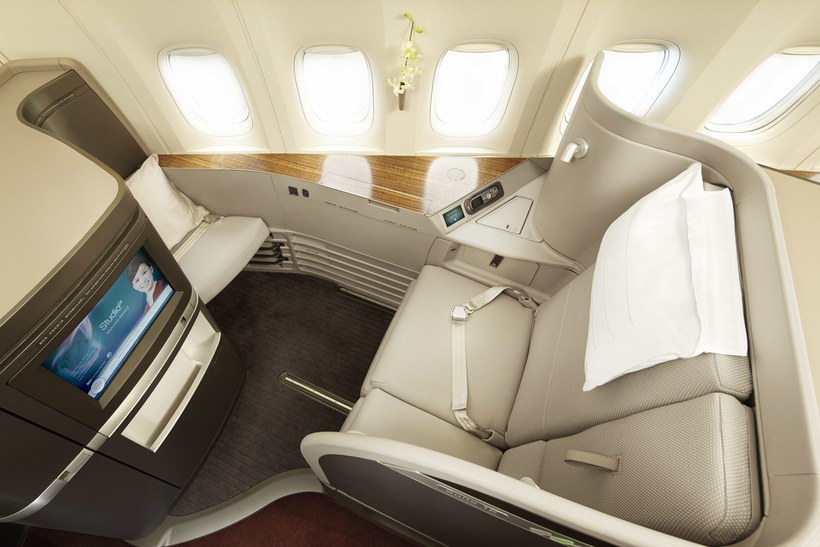 Cathay Pacific Suites
Cathay Pacific's first-class suite lacks many of the bolted-down features you'd expect on a list of the world's top cabins. No, it doesn't have a door, nor does it have a separate seat and bed. But if you ever wished a lie-flat seat could be your actual bed, it would be this one.
Booking into Cathay Pacific first class means you're never let down at any point in your journey. Cathay's lounge outposts in Hong Kong rival many of the finest five-star hotels in decor—and arguably in spa amenities, too. On board, it's impossible not to revel in the handwritten welcome notes given to each guest, before the question of "Would you like a glass of Krug Grand Cuvee 2004?" is proposed. Cathay's first-class beds are wide enough to comfortably sleep two, which makes them more than suitable for one. And when it comes time to hit the hay, the crew arranges each pillow, duvet, and mattress topper like a concerto from a grand master.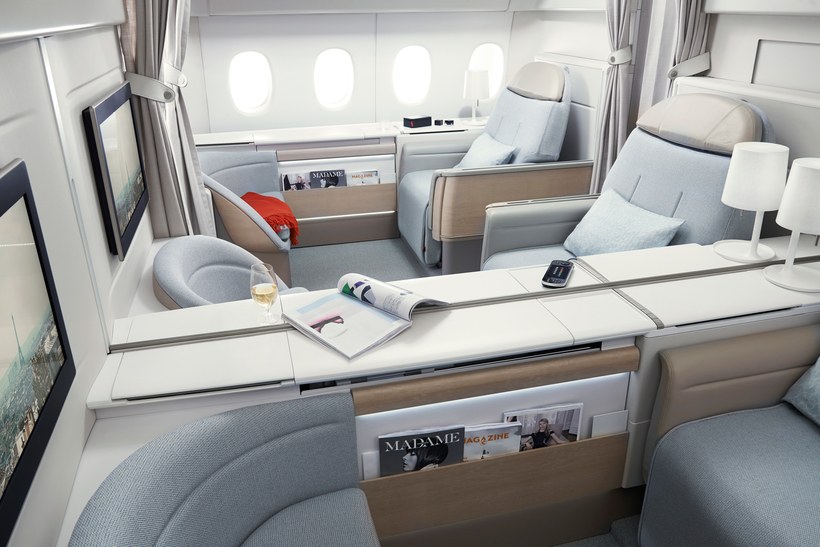 Air France La Premiere Class
There are first-class cabins with larger footprints and plenty more bling, but Air France's first class is the epitome of sophistication. There's high thread count bedding, crew who could pass most sommelier exams, and teams on the ground tasked with ensuring that every step of the journey is flawless. One example? Each passenger enjoys a private sedan from the lounge directly to their plane, bypassing the woes of the terminal entirely.
For those who've experienced the other end of the plane, the first thing to marvel at on board is the fact that you've got four windows all to yourself. Your seat, if you insist on degrading it by calling it as such, is the ultimate relaxation chamber. Because doors are boring, Air France introduced floor-to-ceiling curtains, which only intensify the feeling that you're in a chic Parisienne bedroom, rather than a plane. This is an experience where 24-hour fasting beforehand should almost be mandatory, too, as the exquisite on-board tasting menu was designed by a rotating group of the world's finest chefs.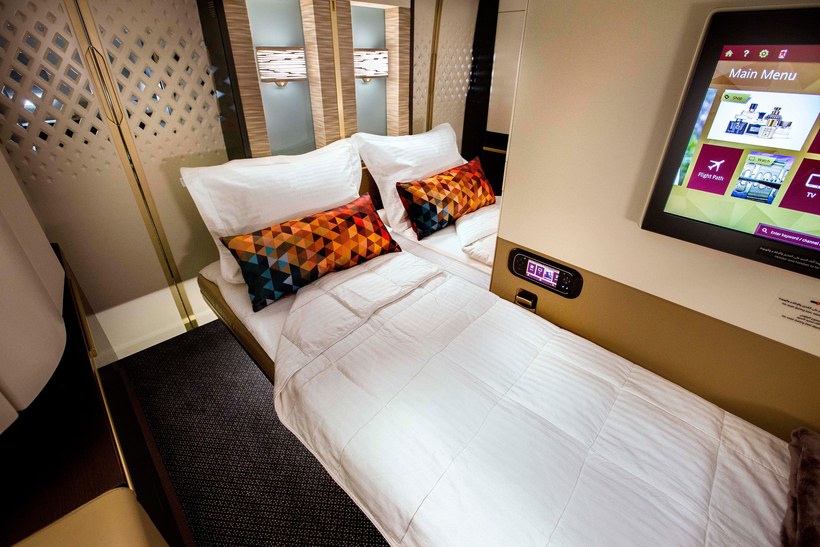 Etihad A380 First Class
Located in the first rows of the Etihad Airbus A380 Upper Deck, the First-Class Apartments give "leg room" a new definition. The suite is more than just a seat that turns into a bed: it's a seat and a separate bed, with enough room to do push-ups and work off all the fine dining you're consuming. If you're traveling with a companion, there are even suites where the privacy wall can be taken down to create a spacious cabin for two.
But why stop there? Etihad turned its airline menus into ingredient lists where guests can create bespoke dishes directly with on-board chefs. When you need a change of pace, there's an on-board bar to mingle with other guests. Want a shower to wake you up before landing? Etihad's first class has shower suites. Don't ever underestimate the glory of a private shower after 10 hours in the sky at 39,000 feet.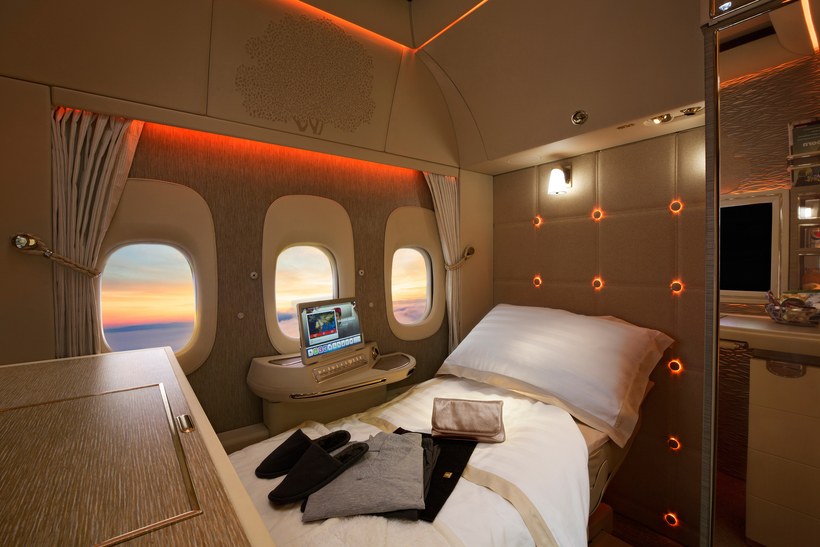 Emirates 777 First Class
With virtual reality, zero gravity seats, and fabrics inspired by Mercedes-Benz interiors, Emirates' new first-class suites are completely over-the-top. Perhaps what makes this experience so unique is the sheer notion that the middle seat is actually the best seat. For the new Boeing 777, Emirates offers two rows with three suites across, rather than the traditional four. To make sure that the middle seat passengers weren't missing out, Emirates created virtual reality "windows," which show the scenes going on outside in HD clarity. After a few glasses from the airline's $500-million wine cellar, including favorites like Mouton Rothschild, no one would hold it against you for believing you're in an actual window seat.
Emirates also commissioned top space engineers to create a zero gravity position in the first class seat, so you can feel as if you're floating through the skies. And with a seat that comfortable, who wants to get up to flag down a top-up? Emirates created a FaceTime-style setup, where you can video chat with the crew to make any requests. They've also upgraded the TVs in these suites to 32″ HD monitors, while also introducing the only floor-,to-ceiling privacy doors found in the sky.
Article written by Gilbert Ott for CN Traveller