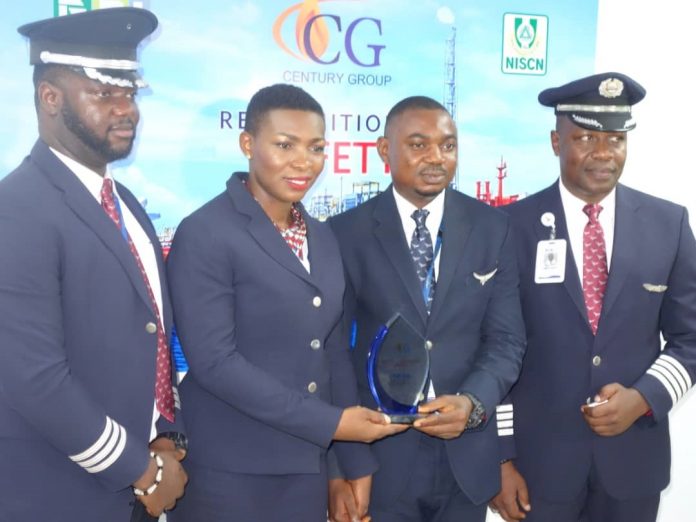 Arik Air, Nigeria's leading carrier, was celebrated by oil and gas giant, Century Group on Tuesday when the airline and its crew were presented with the award of courage and safety at the group's corporate head office in Lagos.

The award according to the Group Executive Director (GED) of Century Group, Mr. Alaba Owoyemi, was geared towards the promotion and reward of outstanding health, safety and environment practices and culture within
Nigeria.

Mr. Owoyemi recalled the experience onboard Arik Air flight W3 745 of October 28, 2018 in which the Captain and crew demonstrated courage, professionalism and empathy in safely conveying the passengers from Port Harcourt to Lagos despite the unusual turbulence. "One of our very own, Dr. Ere Ebikekeme (Technical Director, Global Performance Index) was onboard that flight and we have a firsthand report of the great team work of the crew", Mr. Owoyemi stressed.

The GED stated that the award given to Arik Air crew was geared towards celebrating the successful landing of the plane and to encourage other industry players to take safety seriously through the appreciation of stakeholders that have been exceptional.

Arik Air's Chief Pilot, Captain Abdullahi Mahmood received the airline's award on behalf of the management.
Speaking on the award, Arik Air's Chief Executive Officer (CEO), Captain Roy Ilegbodu thanked the management of Century Group for their gesture and for emphasizing the need to imbibe international safety practices and standards as a culture.

He reiterated Arik Air's commitment to international safety standards and on time performance while also commending the award winning crew for their exemplary courage and for bringing honour to the airline.

"We place a lot of emphasis on training and re-training and this is why our crew members and other categories of staff excel in their duties", Captain Ilegbodu stated.

The crew members rewarded for their courage were Grant Onokah, Ijeoma Onah, Jacob Eneojo and Fadekemi Afolabi.