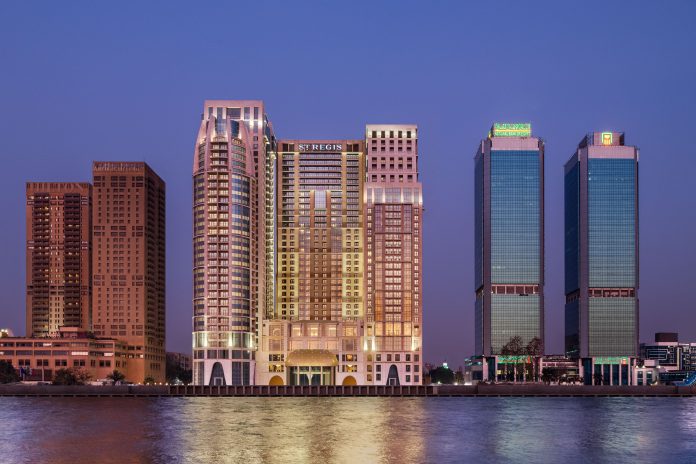 St. Regis Hotels & Resorts, part of Marriott International, has recently announced the highly-anticipated opening of The St. Regis Cairo. Rising tall on the banks of the River Nile, The St. Regis Cairo is an illustrious icon weaving a powerful story of luxury in the region. Located at the North end of the Corniche, in the heart of Egypt's bustling metropolis, the 39-story hotel offers easy access to the magnificent monuments of a city steeped in history.
"Egypt has historically been one of our key markets and strategically significant to our growth in the region," said Satya Anand, President for Europe, Middle East and Africa, Marriott International. " The St. Regis Cairo is an exciting addition to our fast-growing brand portfolio and is set to elevate Cairo's luxury hospitality landscape with its remarkable design, uncompromising service, and exceptional culinary venues."
Eng. Abdullah Bin Hamad Al Attiyah, CEO of Qatari Diar commented, "We are delighted to strengthen our global portfolio of hospitality developments with the opening The St. Regis Cairo. This luxury landmark will introduce higher standards of hospitality to this beautiful destination with its unparalleled levels of luxury and exceptional service – both of which the iconic St. Regis brand is renowned for."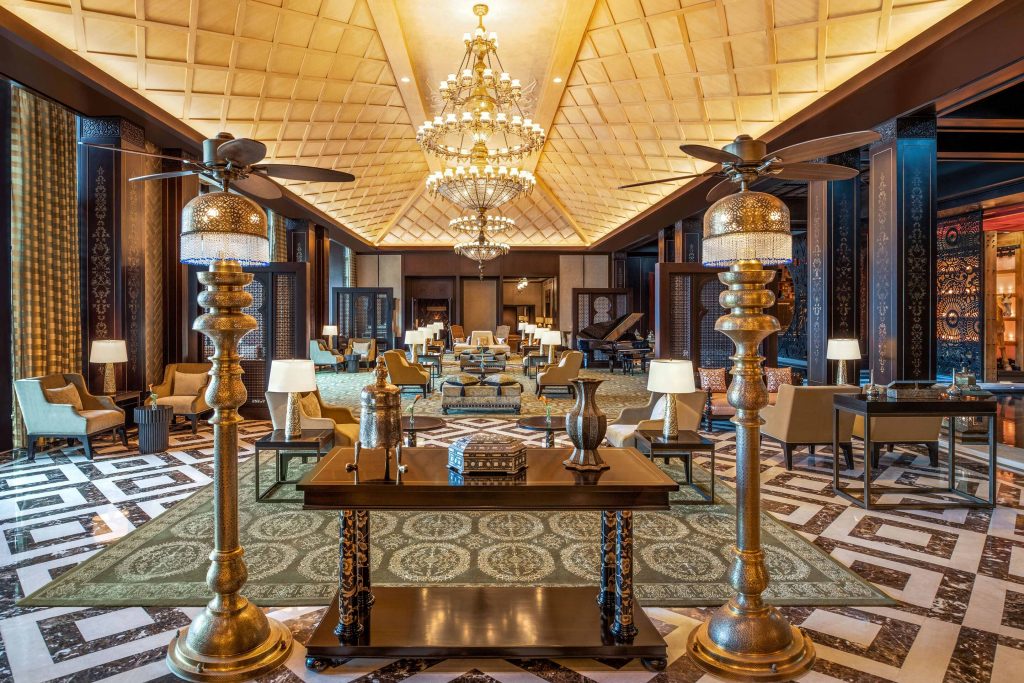 With its striking architecture, created by renowned architect Michael Graves, The St. Regis Cairo firmly establishes itself as a pivotal landmark in the city and beyond, carefully balancing opulence with refinement and elegance to evoke a profound sense of grandeur.
Graceful geometric lines flow throughout the interiors, creating a repeated structural motif that quietly references the heritage of the region. Dark wood and rich textures combine with intricate embroidery, bejeweled paneling, bronze and wood carvings embellished with flashes of shimmering gold, mother of pearl inlays and imposing crystal chandeliers creating a dramatic Egyptian aesthetic with modern execution.
The St. Regis Cairo boasts of 286 lavishly appointed rooms and suites and 80 luxurious apartments, that offer unmatched indulgence. Three expansive Royal Suites define opulence, with plush interiors featuring a private fitness room, sauna and floor-to-ceiling windows offering panoramic Nile views. All guestrooms and suites also enjoy the signature St. Regis Butler service.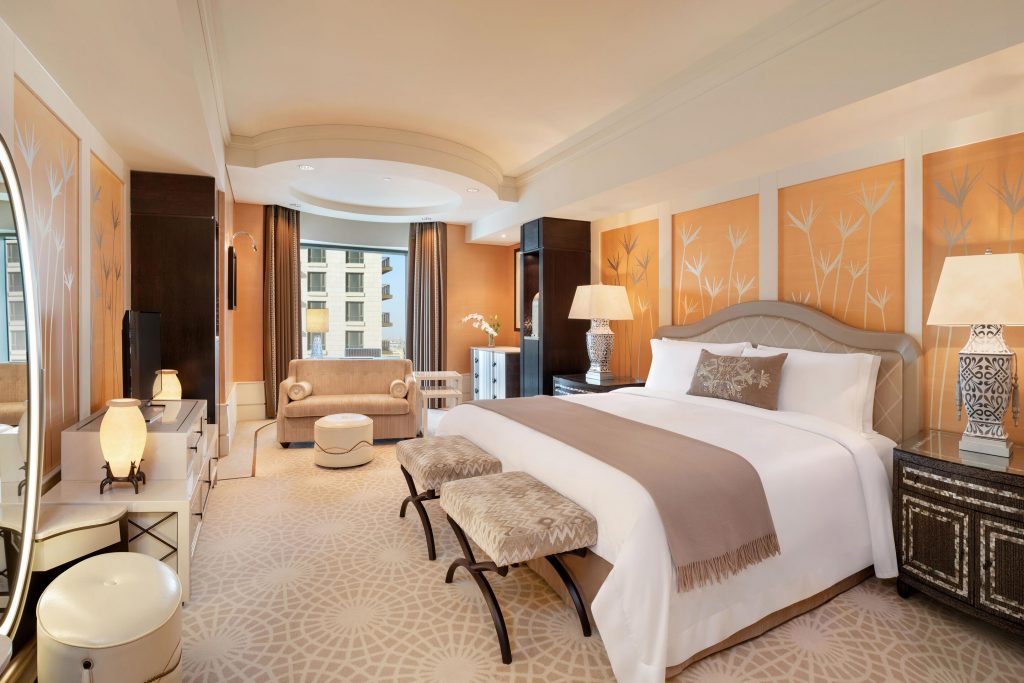 The hotel is an engaging lifestyle destination with refined taste making offered at a diversified selection of restaurants, bars and lounges La Zisa is a modern and relaxed dining space that offers authentic Southern Italian cuisine where guests can enjoy their dining experience overlooking bright views of the Nile.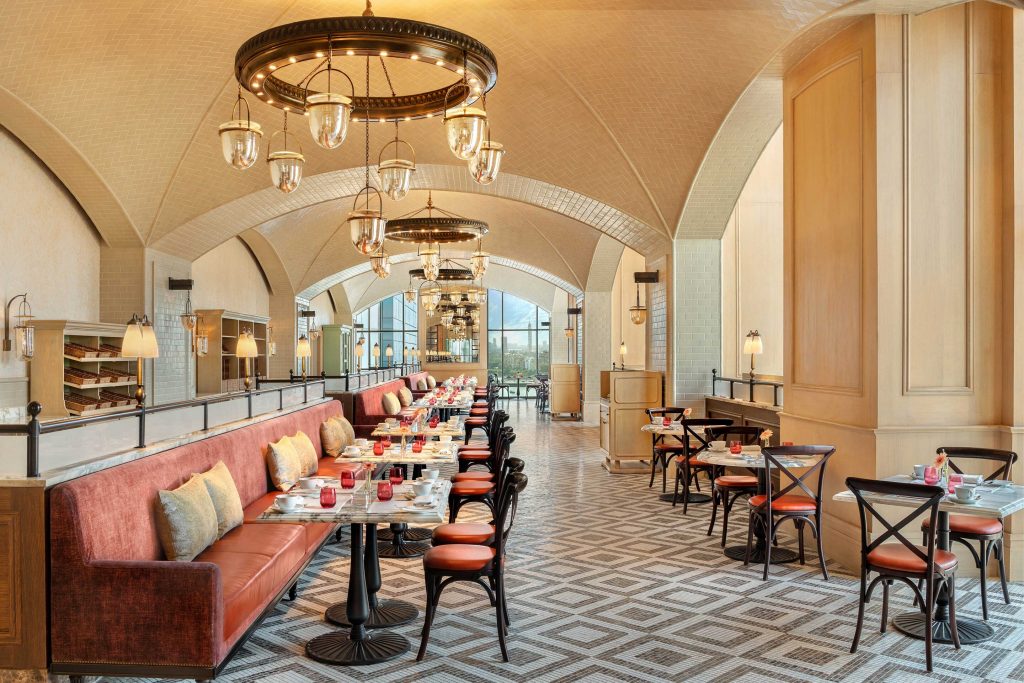 Tianma takes you on a journey to Singapore and is a melting pot of exquisite flavors from China, India and Southeast Asia.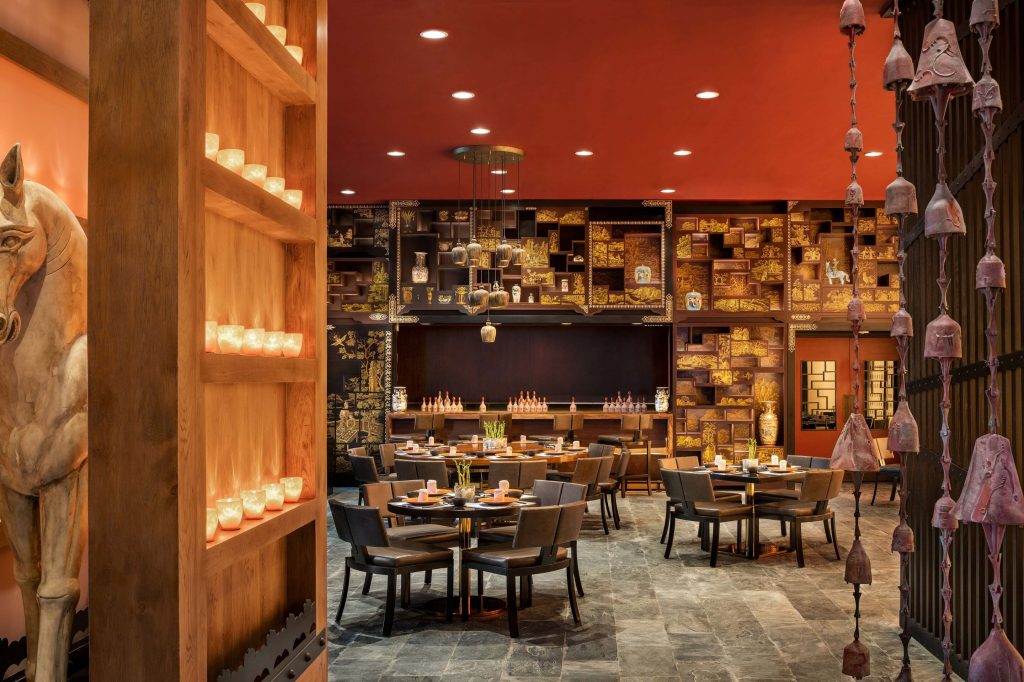 The renowned J&G Steakhouse offers a sophisticated collection of steakhouse favorites, premium meat cuts and fish sourced from around the world; expertly prepared and grilled to perfection.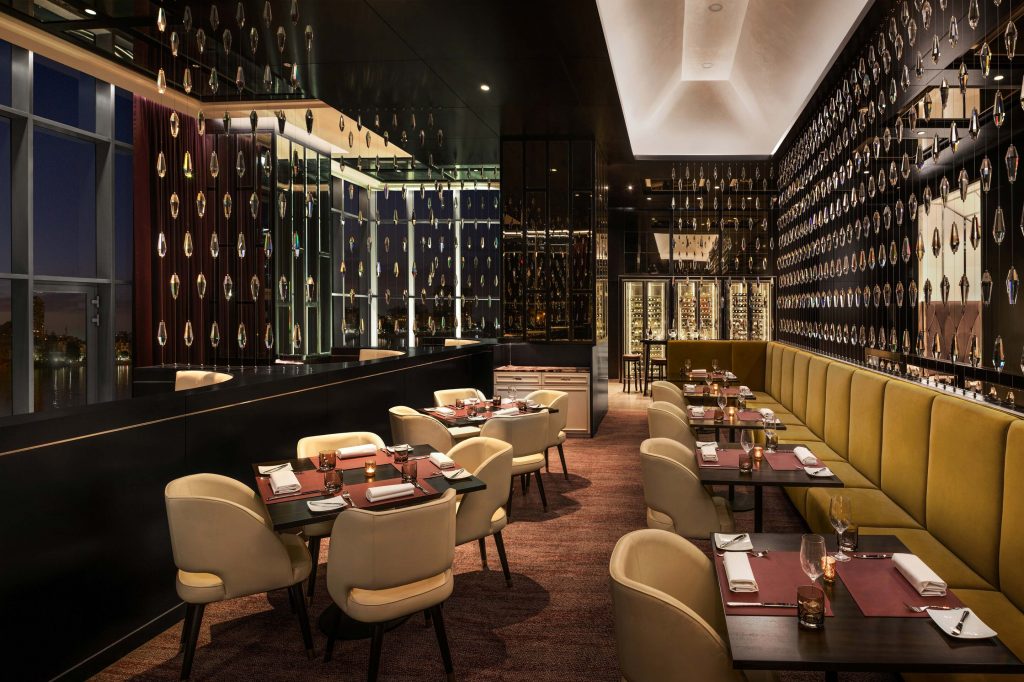 The poolside restaurant and bar, Sirocco, is the ideal place to enjoy a cocktail with a selection of Mediterranean and Egyptian dishes. For urban and chic lounge lovers, Envy is an enchanting and glamorous venue with bejeweled décor for a special night out.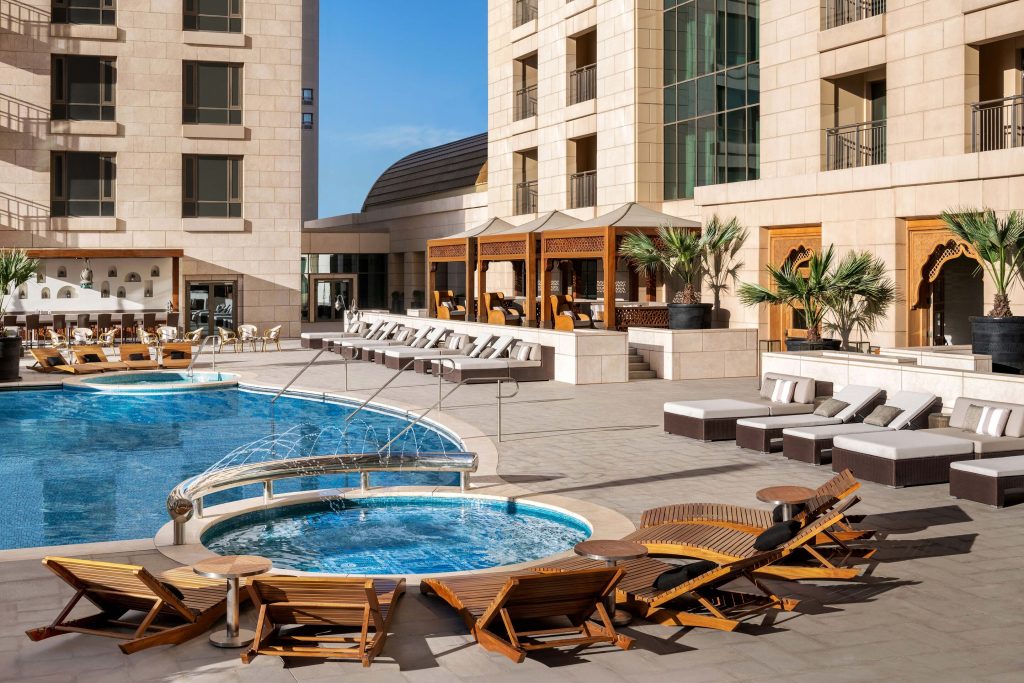 The Water Garden, with its authentic Egyptian interiors, is poised to become a gathering place for both global luminaries and the local social vanguards be it for the signature Afternoon Tea or the Evening Ritual.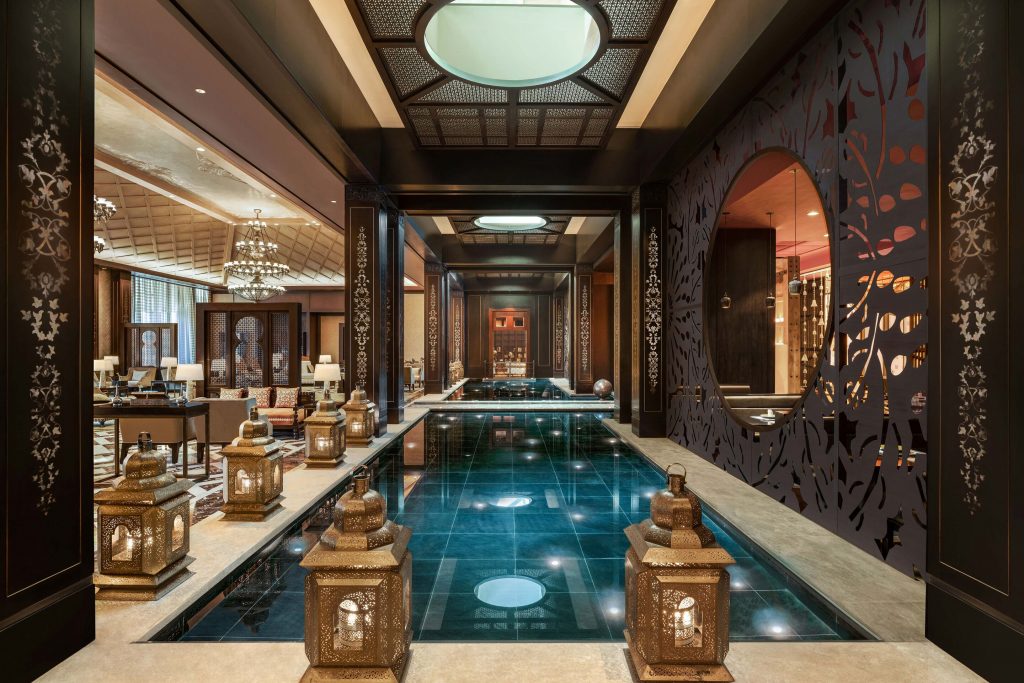 The iconic St. Regis Bar is inspired by the King Cole Bar at the brand's flagship in New York, where the world-renowned Bloody Mary cocktail was born in 1934. It features an exclusive selection of the world's finest champagnes, rare vintage wines, hand-crafted cocktails, and the hotel's own rendition of the signature St. Regis Bloody Mary, infused with exotic taste and fragrance of the Hibiscus flower.