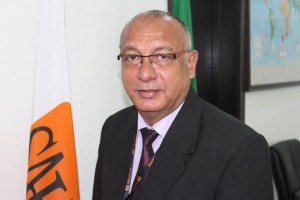 The Board of the Skyway Aviation Handling Company Limited (SAHCOL) has dismissed its Indian Managing Director, Mr. Rizwan Kadri over non-performance.
Kadri who was appointed as the Managing Director of the ground handling company in November 2015, it was gathered has been at loggerheads with the board of directors since his appointment over his managerial style.
It was learned that a letter of non-renewal of appointment was sent to Kadri about two weeks ago in India where he has relocated to since last November when he was sent on a compulsory leave.
Kadri's tenure as the Managing Director of SAHCOL elapsed in November and rather than renew his contract for another two years as is the tradition in the company, the board decided to send him on a compulsory leave, which signalled his end as helmsman in the ground handling company.
Mr. Basil Agboarumi, the company's Corporate Communications' Manager, was immediately appointed as the acting Managing Director.
It would be recalled that Kadri within his two years as the helmsman in SAHCOL came up with several anti-workers policies, a situation which pitched him against the industry's unions.
One of such policies was his attempt to stop workers from going on annual leave and the order that the company's cooperative society should be the one paying workers that embark on leave and not the organization itself.
But, the quick intervention of the Chairman of SAHCOL, Mr. Taiwo Afolabi on the issue through a memo to the workers prevented what would have been a major industrial crisis in the ground handling company.
It was also learned that Kadri within the period could not attract any new clients to the ground handling company. The new clients that patronized the company within the period were close allies of the chairman and the immediate past Managing Director of the company, Alhaji Oluropo Owolabi.
A source said: "On several occasions, he attempted to come up with policies that are anti-workers, but the resistance of the workers and the unions stopped most of his draconian policies. He specifically made it clear that the workers would not be allowed to go on leave and anyone that eventually goes on leave would be paid by the cooperative.
"We had to resist that and the quick intervention of Mr. Afolabi stopped what would have been a major industrial crisis in SAHCOL. When Afolabi sent a memo to us on the issue, he was on a two-month leave and so when he came back, there was nothing he could do about it."
When contacted on the issue, Agboarumi said SAHCOL only decided whether or not to renew Kadri's contract, adding that there was no issue during and after his tenure.
He added that he had simply carried out what he was brought in for and the company decided to end it there after two years.
He said: "His contract with the company ended in November 2017 and the company can decide whether to renew or not to renew, but he has done what he was brought in to do at that time and the company has to move on. There was no issue at all, in fact when he was leaving, the company appreciated him for his contributions, so he has moved on. His contract was for two years, he had no issues."
Saharareporters.com