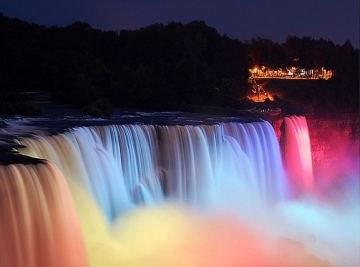 There's something about America's most beautiful waterfalls that makes them worth the chase, whether a road trip to a new destination or an overnight hike in one of country's magnificent national parks. From stunning chutes of water jutting from tropical cliffs to gentle tumbles down the side of a glacier, here is a list of the most beautiful waterfalls in the USA that should definitely make your bucket list.
Waimoku Falls | Maui, Hawaii
Waimoku Falls in Haleakala National Park Kipahulu is more about the journey than the destination. The scenic 1.8-mile Pipiwai Trail leads you through towering bamboo forests and past series of waterfalls in a pristine tropical rain forest before dropping you near the base of the 400-foot tall Waimoku cascade. However, due to safety concerns, you have to keep a distance from the water. This trail is known for being well-maintained and not too difficult, with an intermediate incline slowly leading up to the falls.
Niagara Falls | New York
The king of America's most beautiful waterfalls, visiting Niagara Falls is a surefire bucket-list experience. Three magnificent falls, two American and one Canadian, mark the point at which the Niagara River rumbles over the Niagara Escarpment. Reviewers claim that the scenic attraction is "Heaven on Earth…Everyone should visit the fall at least once in their lifetime. Words cannot describe the feeling or the euphoria of being there."
Cumberland Falls | Corbin, Kentucky
Known as the "Niagara of the South," Cumberland Falls in Corbin, Kentucky is a 125-foot wide vail of gushing blue-green water in Cumberland Falls State Resort Park. The falls are easily accessed from a pair of viewing platforms located right off the highway, but hiking trails give you the option to make a full day of the visit. Plan your trip on a full moon for the chance to see a moon bow, a rainbow caused from the strength of the light reflecting off the falls and the full moon.
Akaka Falls Park | Hilo, Hawaii
Take an easy half-mile hike down a paved trail to see Akaka Falls and Kahuna Falls emerge from Hawaii's lush tropical landscape. Walk past wild orchids and drooping banana trees en route to the falls, stopping to admire the sights from multiple viewing platforms along the way. A Big Island waterfall tour makes it easy to see Akaka Falls and other amazing waterfalls in a single day.
Bridalveil Fall | Yosemite, California
From Ansel Adams to Instagram, Bridalveil Fall is one of the most iconic views in Yosemite National Park. This famous waterfall tumbles 620-feet down to the base, with enough water in the spring and early summertime to mist its visitors and a delicate yellow glow in the winter. Though the waterfall is not wheelchair accessible, it is only a 10-minute walk down a paved path from the main visitor parking lot. Visit as part of a larger trip to Yosemite from San Francisco or Los Angeles to make the most of your time in California.
Nugget Falls | Juneau, Alaska
Nugget Falls is all about location, with its position at the tail end of Alaska's Mendenhall Glacier helping it make the cut as one of the most beautiful waterfalls in the USA. The falls are formed from a glacial creek and make their way into Mendenhall Lake over the course of a 2-tiered drop. Though accessible on there own via a graveled path, they are often visited as part of a Juneau shore excursion or Mendenhall Lake tour.
Havasu Falls | Supai, Arizona
An unexpected oasis of clear blue waters in the middle of the Grand Canyon's orange sandstone, Havasu Falls' miraculous existence qualifies it as one of the most beautiful waterfalls in the USA.
Virginia Falls | Glacier National Park, Montana
Hike past three waterfalls in three miles on a trip to Virginia Falls in Glacier National Park. A moderate trail passes by Baring Falls and St. Mary Falls before culminating at Virginia Falls, widely considered one of the best waterfalls in all of Glacier National Park for its turquoise waters and crystal pools perfect for dipping your feet in.
Whitewater Falls | Sapphire, North Carolina
At 811-feet tall, Whitewater Falls is the tallest waterfall in the Eastern United States, with beauty to boot. The multi-tiered falls break over a series of jutting rocks, all clearly visible from two observation decks. Take a short hike down a paved walkway to the upper overlook, or head down the 154-step staircase to reach the lower observation area, considered by many to have better views.
Multnomah Falls | Bridal Veil, Oregon
A 20th-century stone bridge strung between two cliffs offers the best views of Multnomah Falls, one of the most famous waterfalls in all of Oregon. Stand on the bridge to admire views of the 542-foot tall upper tier and 69-foot tall lower tier from a single vantage point, providing a contrast that puts the falls' sheer size into perspective. See the falls on their own, or combine with a trip to the historic Multnomah Falls Lodge. The falls make an ideal Portland day trip when combined with other Columbia River Gorge attractions.
Union Falls | Yellowstone National Park, Wyoming
The little-known Union Falls is a gem of Yellowstone National Park—and getting there might feel like a treasure hunt. Those willing to make the 8-mile hike each way through rugged terrain will be rewarded with a view of one of the most beautiful waterfalls in the USA, likely without another soul in sight. Plan to spend the night at one of the backcountry camping areas along the way or start out early and prepared for a full day of hiking.
Palouse Falls | Washtucna, Washington
Palouse Falls' unexpected beauty graces eastern Washington, enticing thousands of yearly visitors to see the 186-foot drop from a scare and rocky outcrop into a churning azure pool below. Check out the falls from a number of viewpoints scattered about Palouse Falls State Park, peer down from a trail hugging the canyon rim, or get up close to the water from behind protective railings. Bring a tent and reserve a campsite in order to catch the best views of the falls at sunset.
Mesa Falls | Ashton, Idaho
A 115-foot cascade billows over the remnants of an ancient volcanic eruption at Mesa Falls in Ashton, Idaho. The Lower Falls can be seen from a drive-up parking area with a lookout point, but the real show is at the Upper Falls, accessible by a short paved path from the visitors center. Mesa Falls is yet undiscovered by most area visitors, making for a more tranquil viewing experience.
Calf Creek Falls | Escalante, Utah
Escape the desert heat on a hike to Calf Creek Falls, located in Utah's Grand Staircase-Escalante National Monument. Though there are an upper and lower portion of the falls, the lower is by far the favorite, with a relatively flat six-mile out-and-back hike, a taller cascade, and more scenic views along the way. Pack a picnic and swimsuit for a perfect summer day.
Snoqualmie Falls | Snowqualmie, Washington
A viewing platform just 200 feet from the parking lot makes it easy to see Washington's Snoqualmie Falls, located just off the busy I-90 interstate. These famous waterfalls have become more popular recently because of their appearance in the TV show "Twin Peaks," but have long been a favourite day trip by Seattle-area visitors. Make the most of your trip to the Emerald City by visiting Snoqualmie Falls as part of a Seattle sightseeing tour, or take a full day in the countryside by visiting as part of a Seattle winery tour.
Full list available on Trip Advisor