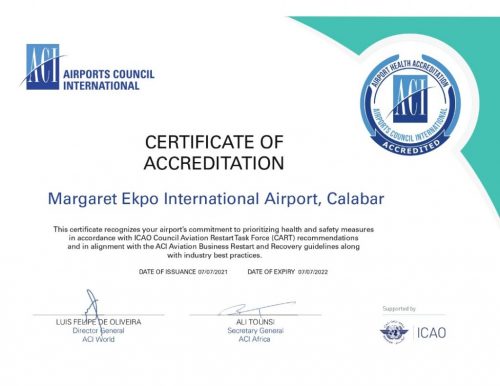 The Airport Council International (ACI) has recognized Sam Mbakwe International Cargo Airport, Owerri (SMICA),Margaret Ekpo International Airport, Calabar and the Sultan Abubakar III International Airport Sokoto. The airports have been recognized and accredited for their commitment  to prioritizing health and safety measures in accordance with ICAO Council Aviation Restart Task Force (CART) recommendations.
These accreditation are in alignment with ACI Aviation Business Restart and Recovery guidelines along with industry best practices.
The programme is designing to help reassure the travelling public that airports facilities remain safe and that precautions are being taken to reduce any risk to their health.
In a letter addressed to the Managing Director of the Federal Airports Authority of Nigeria (FAAN), Captain Rabiu Yadudu, the Director General ACI World, Luis Felipe de Oliveira extended congratulations for SMICA achieving this feat and becoming accredited in the ACI's Airport Health  Accreditation Programme.
The accreditation is valid for 12 months.