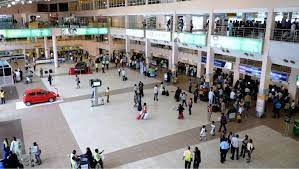 According to figures released recently by the Nigerian Civil Aviation Authority (NCAA), no fewer than 148,357,253 air travellers passed through 26 airports in Nigeria between 2012 and 2021.
The statistics show that the Murtala Muhammed International Airport (MMIA), Lagos, Port Harcourt International Airport (PHIA), Omagwa and the Nnamdi Azikiwe International Airport (NAIA), Abuja attracted the highest passenger movements in the country.
In 2012, the airports recorded 14,370,795 as inbound and outbound passengers, 2013 recorded 14,126,767 while 2014 had 15,339,393 inbound and outbound travellers across the 26 recognised airports and terminals.
For 2015, the country had 15,222,887 travellers, while 2016, 2017, 2018 and 2019 recorded 15,232,597, 14,440,169, 16,371,674 and 17,580,023 travellers respectively.
During the Covid-19 pandemic in 2020, Nigeria recorded10,447,321 passengers for outbound and inbound travels within the period. This is largely due to the travel bans, lockdowns and other measures taken by the governments to put under control the spread of the virus in 2020 which got extended into 2021.
By 2021, with quite a number of the travel bans and lockdowns have been lifted, inbound and outbound travels in Nigeria increased slightly to 15,225,627.
Airports in Maiduguri, Sokoto, Yola, Katsina, Minna, Gombe, Enugu, Akure, Benin, Bauchi, Kebbi, Dutse and Ibadan airports recorded very low passenger traffic within the last decade with some of them having less than 10,000 passengers as inbound and outbound in 10 years.
The data provided however excludes passenger traffic at the Murtala Muhammed Airport Two (MMA2), Lagos and Asaba International Airport, which are privately owned.
Figures for MMA2 which is operated by the Bi-Courtney Aviation Services Limited (BASL), has never been released since it was opened for operations on May 7, 2007.