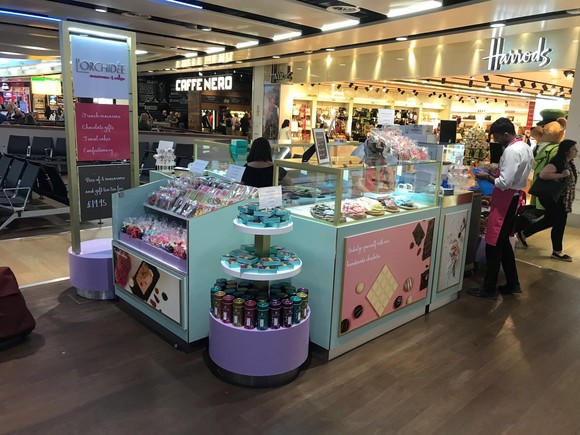 Confectionery gifting specialist L'Orchidee has arrived at Heathrow this week. A new pop up shop has been installed at Terminal 3 giving passengers a selection of sweet treats, the perfect gifts to take home for loved ones.
L'Orchidee, which has just four stores in London, makes handcrafted, gluten-free treats including French Macarons, travel-sized cakes and chocolates for all occasions. The team use a very traditional French method to make sweets from scratch, offering an authentic, international taste experience. Flavours include Ferrero Rocher, Persian pistachio, rainbow white chocolate, Madagascan vanilla which make the perfect gift for every occasion.
The chefs have also created a wonderful range of chocolates that are available in a wide range of gift boxes. Passengers can choose from a selection of London's favorite flavours such as Eaton mess, Black Forest, Tiramisu or an international selection including inspiration from the Americas such as Venezuelan, Peruvian, Colombian, Mexico & Brazil. (vegan options available).
The products are freshly handmade using only the finest ingredients, from seasonal organic British strawberries, Venezuelan chocolate, bourbon vanilla to the greenest pistachios.
Elias Dayub, Managing Director of L'Orchidee said; "We are extremely excited to open in London Heathrow as an independent to bring artisan products such as handmade macarons and chocolates to travellers and show them a bit more of what this great city has to offer as well as help them to find great little gifts for friends and family as well as small treats for all of those flying hours!"
Heathrow's Head of Food and Beverage, Ben Crowley said; "We are delighted to bring a selection of L'Orchidee's beautiful, delicate sweet treats to Terminal 3. The pop up adds a new and authentic, hand-made taste experience that will be loved by all our international passengers and the perfect gift for their loved ones."