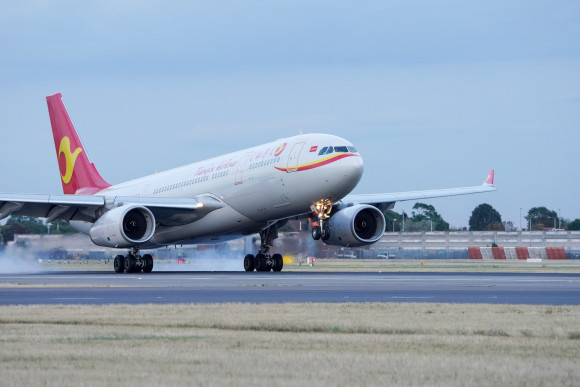 Figures newly released by Heathrow reveal £17m is expected to be injected into the Scottish economy annually, as a result of a new Heathrow to Inverness air service introduced earlier this month.
Heathrow, Inverness Airport and Scottish businesses have come together to welcome British Airways' new daily flight, that will better connect the vibrant North with the UK's only international hub airport. The launch will see an additional 83,500 seats to Inverness a year and help more international passengers connect to the area, it's people, tourism, exports and business. And it's not just those visiting Scotland for its great food, music and Loch Ness Monster that will help boost economic growth estimated by Frontier.
Better connections to Heathrow gives Scottish businesses more opportunity to reach markets and trade with the world. Heathrow deals with 34% of all UK trade (by value) and last year handled 35,000 tonnes of salmon, a major Scottish export, worth £223m to UK economy.
Today, Heathrow supports domestic routes to four cities across Scotland: Inverness, Glasgow, Aberdeen, and Edinburgh. As part of Heathrow expansion, the airport is working with Scottish airports and the Scottish Government to protect these routes and introduce up to 14 new domestic flights to UK cities, such as Dundee, with a £10m route development fund. In January, Heathrow also increased its domestic passenger discount to £15 to support domestic services.
Heathrow Chief Executive John Holland-Kaye said "As the UK's front door, we're are proud to promote Scotland to travellers from around the world who arrive to Heathrow on more than 80 airlines. Connecting passengers to the local economy and more Scottish businesses to the world is vital, and Heathrow will continue to support all airlines in their efforts to boost regional links."
Highlands and Islands Airports Managing Director Inglis Lyon said:
"Inverness Airport is the gateway to the Highlands and Islands and its continued success plays a significant role in supporting businesses and communities across the region and also allows visitors ready access to all that Scotland has to offer. Connecting this to the UK's front door will bring further benefits for industries such as tourism and business and Heathrow's role in allowing trade with the rest of the world, cannot be underestimated."
Heathrow also recognizes the vital role SME's play in keeping the UK an outward-looking trading nation, and over the past two years have partnered with the Department for International Trade's 'Exporting is GREAT' Campaign. The campaign aims to help British businesses identify and reach new markets for their goods or services. The World of Opportunity programme has already awarded 40 SMEs with grants worth £80,000 to fund trade missions, trade shows, and foreign market research. Last year's winner from Grantown-on-Spey has also welcomed million pound boost to Scotland.
CEO of Scottish based business BASI Andrew Lockerbie said, "The sustainability of our business relies on international connections and, importantly, links between Inverness and Heathrow as a stepping stone to our crucial Chinese market. SMEs like ours are aiming to show the world that the UK is open for business and we have been able to successfully do that through better connectivity to Heathrow and by using the airport's World of Opportunity funding to grow our customer base in China. The announcement of more frequent links with Heathrow is good news for the Cairngorms, for Scotland and for all of the UK."