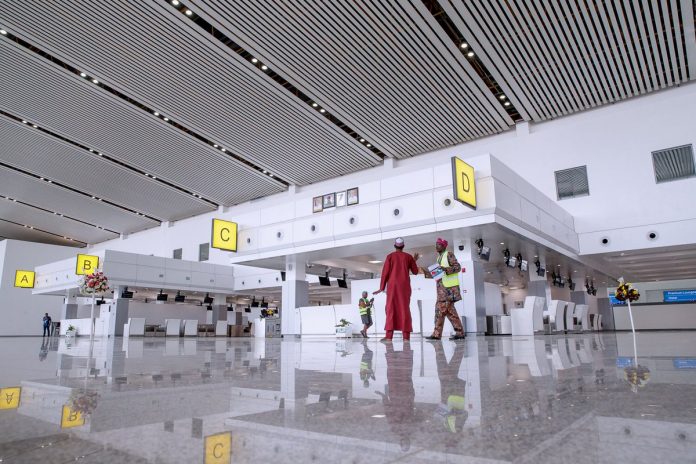 The Federal Airports Authority of Nigeria (FAAN) has deployed over 50 Closed-Circuit Television (CCTV) cameras to the new terminal of the Nnamdi Azikiwe International Airport (NAIA), Abuja.
This is coming after the announcement made earlier today that international operations at the old terminal at been brought to a stop with the relocation of British Airways from the old to the new terminal.
The Authority stated that with this latest development, rehabilitation work is expected to start soon at the old Nnamdi Azikiwe International Airport (NAIA) following the movement of all flights emanating from the terminal to the newly constructed and commissioned CCECC terminal.
Mrs Hajara Musa, International Terminal Manager, NAIA, disclosed this in an interview with newsmen during the inaugural flight of British Airways at the new terminal on Tuesday in Abuja.
Musa noted that since flight operations began at the new terminal in January when Asky Airlines started using the facility, the management had recorded smooth operation .
She noted that the authority was aware of the possibility of insider threat associated with most crimes at the airport, and that was why it was putting necessary measures in place with the installation of over 500 cameras at the airport with the intention to do more.
Speaking further she said, "Every day we discover open area and we call the attention of the contractor on the need to empower the place with cameras and there is always somebody at the control room who will alert you immediately he sees anything that is abnormal going on.
Thirteen (13) Airlines including, ASKY, Ethiopian Airlines, Turkish Airways, RwandAir, Emirates, Air France, Air Peace, Lufthansa, African World Airlines and Air Coted'voire have been relocating since the 6th of January, 2019 with British Airways sealing flights to the old terminal.