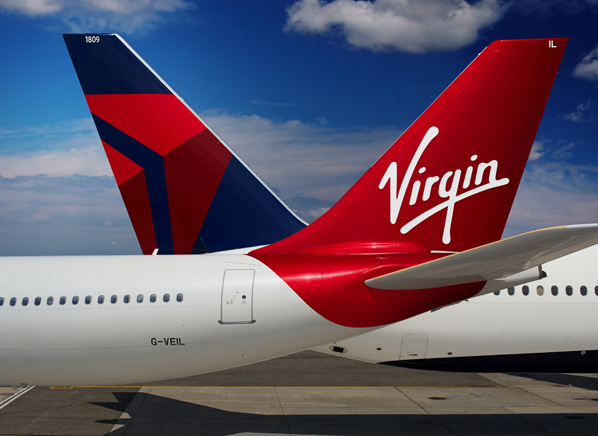 Delta Air Lines and Virgin Atlantic are launching 18 self-service bag-drop units at London Heathrow's Terminal 3, saving customers valuable time at the airport through the use of intuitive technology.
Available on all Delta- and Virgin Atlantic-operated flights to the United States, the new self-service units have been rolled out following successful testing at London Heathrow. Through intuitive, easy-to-use technology, customers can drop their bags in under two minutes, giving them more time to enjoy Terminal 3's lounges or many retail and restaurant outlets.
To take advantage of the new machines, customers need to check-in via one of Delta's self-service channels and follow these simple steps:
Scan their mobile or printed boarding pass
Place their bag on the bag belt
Print their bag tag and attach it to the bag
Send the bag for loading
Bags are then accepted into the system and screened as they would be during the traditional bag drop process at the counter.
"The new machines are another way that Delta and Virgin Atlantic are working together to ease the journey through our London hub," said Corneel Koster, Delta's S.V.P. of Europe, Middle East, Africa and India. "With a quick and easy bag-drop experience, customers can choose how they enjoy that extra time before they fly."
For further peace of mind, the self-service units support Delta's pioneering RFID bag tracking technology by issuing RFID chipped bag tags. These synch to the Fly Delta app so customers can track their checked bags in real time.
Hayley Parker, Vice President of Airports at Virgin Atlantic, said: "We're always looking at ways to improve the customer journey, and self-service bag drop is another example of how we're making things easier for our customers. This new technology enables customers to breeze through the airport, while ensuring our team are still on hand to deliver personalised service and answer queries at all times."