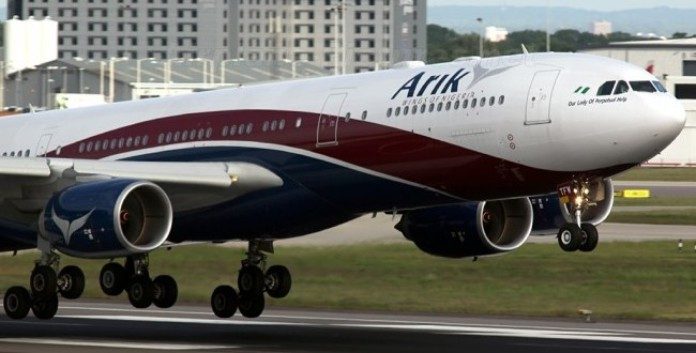 Bi-Courtney Aviation Services Limited, operators of the Murtala Muhammed Airport Terminal Two, has assured the management of Arik Air of seamless passenger facilitation, as the airline begins its scheduled flight operations from the terminal to the Port Harcourt International Airport on Saturday.
According to a statement by the spokesman for the BASL, Steve Omolale, said with its spacious ticketing and departure hall, as well as modern facilities, such as automated check-in counters, smooth escalators/elevators, waiting ambulance, health facilities, lounges, restaurants and shops, the MMA2 remains a safe, secured and efficient passenger-friendly terminal to provide exceptional services to Arik's guests to Port Harcourt and the best destination for other flying passengers and shoppers.
"We want to assure all the passengers who will be flying Arik Air from this Saturday of seamless facilitation as we welcome all of them to our terminal," Omolale said.
The statement quoted the Chief Executive Officer, BASL, Capt. Jari Williams, as expressing delight at the move by Arik, saying the MMA2 would continue to offer passengers using the terminal hitch-free facilitation and the ambience that would make their flying experience worth the while.
Arik Air had earlier said its flights to and from the Port Harcourt airport, hitherto operated from the General Aviation Terminal, would cease from Saturday and resume at 7am at the MMA2, while two other flights would follow at 11am and 3pm the same day.
Omolale said with this move, Arik Air will join Dana, Aero, Med-View, Azman and First Nation airlines, which have been operating scheduled flights from MMA2 over the years.