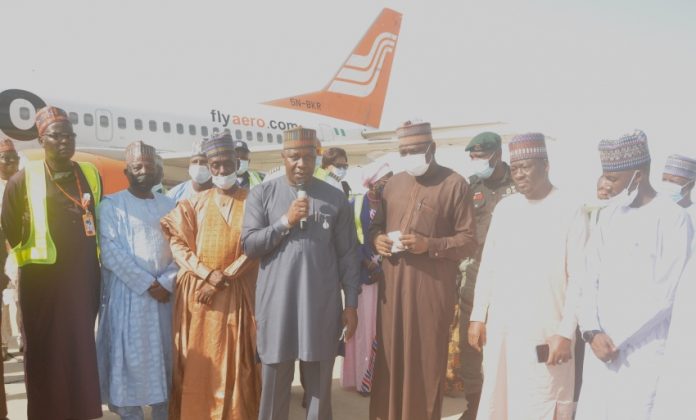 Aero Contractors, Nigeria's oldest commercial airline has extended flight operations to the North-Eastern Nigeria, by launching services into Maiduguri.
The flight was welcomed with water cannon as the airline deployed one of the newly leased Airbus A320 aircraft to connect passengers between Lagos and Maiduguri via Abuja.
Speaking at the inaugural flight in Maiduguri airport, Managing Director of Aero, Captain Abdullahi Mahmood, said the airline has taken the right decision by launching flight services into Borno State
"We are here today to make history after sixty-two years of operations, this is the first time Aero will be operating flight to Maiduguri. And Maiduguri is a home and State of peace. The achievements of the governor have really encouraged us. Maiduguri is one of the busiest states today in Nigeria, despite all the challenges, we have almost 50 NGOs in Maiduguri and there is traffic for aviation."
The Governor of Borno State, represented by his Chief of Staff, Professor Isa Marte, said the state was at present a "home of peace" as peace had finally returned.
He said: "The only way to drive airfare down is to create a competitive environment so with the arrival of Aero into the State, the competition has just started. The airfares would be reduced with the airline's commencement of flight operations to Maiduguri.
"With the record of Aero which is safety first, I think the people of the state will definitely patronise the airline. There is no doubt that the airline will not experience shortage of passengers because we have so many air travelers in and around the State. I wish the airline an excellent operation and I appreciate the airline for choosing the state for its operation,"
Professor Isa also added that with the arrival of Aero Contractors, the state now has four airline operating into the state, others are Max Air, Arik Air and Azman Air.