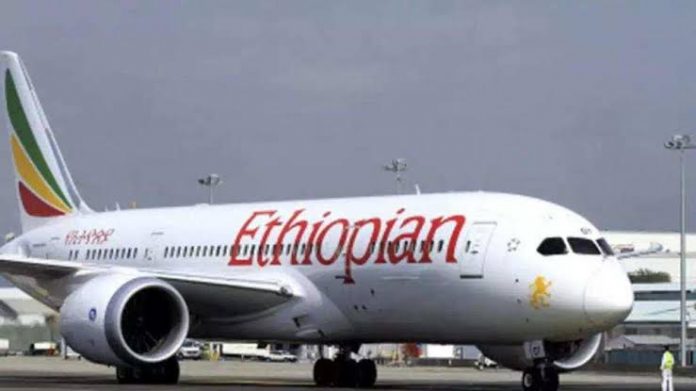 All passengers on board an Ethiopian Airlines jet that crashed shortly after take-off on Sunday have died, the airline says. It stated that 149 passengers and eight crew members onboard a Boeing 737-800 MAX were on flight ET302 from Addis Ababa to Nairobi in Kenya.
The airline added that there were 33 different nationalities on board.
The plane which took off at 8:38am local time from Bole International Airport , was said to have lost contact six minutes later near Bishoftu, a town about 60km southeast of Addis Ababa by road.
The last major accident involving an Ethiopian Airlines passenger plane was a Boeing 737-800 that exploded after taking off from Lebanon in 2010, killing 83 passengers and seven crew.
Boeing Airplanes, the manufacturer of the plane in question tweeted that it was aware of an airplane a cident and is closely monitoring the situation.
The 737-800 MAX launched in 2016 the brand new updated version of the Boeing 737. The aircraft is believed to be the most fuel-efficient, short-range Boeing aircraft on the market.
The Boeing 737-800MAX is the same type of plane as the Indonesian Lion Air that crashed 13 minutes after take off leading to the death of all 189 people on board.
According to reports, the Ethiopian Airlines aircraft involved in the accident today is less than four months old. It was said to have been delivered to Ethiopia in mid-November, when it flew from the US, made a fuel stop in Ireland, and was delivered to Addis Ababa.
The cause of the accident is yet to be ascertained