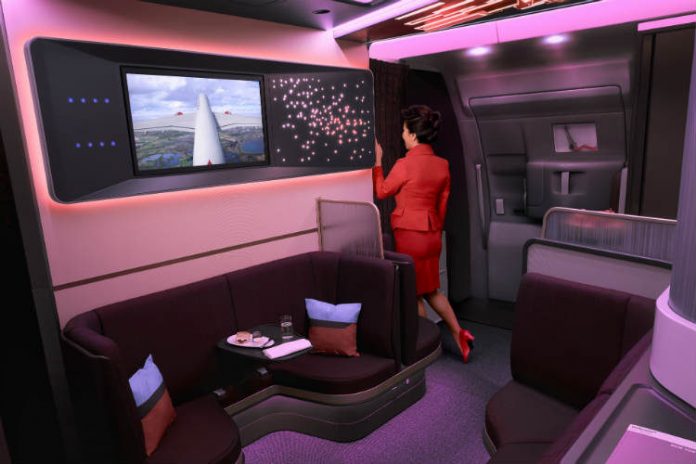 Virgin Atlantic has unveiled details of its long-awaited Airbus A350-1000 aircraft, which includes an entirely new Upper Class cabin, featuring a brand new suite and social space. On sale this month, the airline's first A350, named Red Velvet, will take to the skies from late summer 2019.
As the first airline to introduce an on-board bar, Virgin Atlantic has taken its customer proposition to the next level, as customers can now enjoy a social space known as The Loft. As the largest social space in the airline's fleet, it's designed for customers to gather, chat, enjoy a drink or dine with friends.
The Loft extends the airline's world renowned Clubhouse experience to the skies, offering a wide range of cocktails, and the option for customers to dine together and enjoy Mile High afternoon tea by Eric Lanlard and a selection of delicious new dishes by Donal Skehan. As well as enjoying luxe comfort and high end finishes, customers can settle in with Bluetooth headphones and connect to the 32" screen – catch a show, or watch the live tailcam.
The Loft is not the only innovation to the Upper Class cabin, as customers can also experience an entirely new suite, which has been designed in collaboration with a number of Virgin Atlantic's most frequent flyers;
Every seat now faces towards the window and offers deployable privacy screens.
Laid out in a 1-2-1 configuration, every suite has a 44" pitch, with a fully flat bed length of up to 82"
All suites will transition seamlessly from an upright seat, straight to a bed.
It boasts Virgin Atlantic's largest ever in-flight entertainment screen, at 18.5"and features intuitive new system, controllable by customers' own personal device.
In line with the rest of the fleet, every customer will still have direct aisle access.
Customers travelling in Virgin Atlantic's award winning Premium cabin and its much loved Economy cabin will also be able to enjoy the increased levels of luxury and comfort the A350 has to offer;
Both have the largest entertainment screens ever offered; 13.3" in Premium and 11.6" in Economy.
Premium customers will also enjoy a generous 7" recline, increased space for storage, a four way adjustable headrest and a luxurious leather seat customers know and love.
Economy seats have been upgraded to new luxurious fabrics offering adjustable headrests. Economy Light and Classic will offer a 31" seat pitch whilst Economy Delight offers 34".
The entire aircraft will also have access to high speed wifi as well as the unique and personalised service of Virgin Atlantic's world famous Cabin Crew.