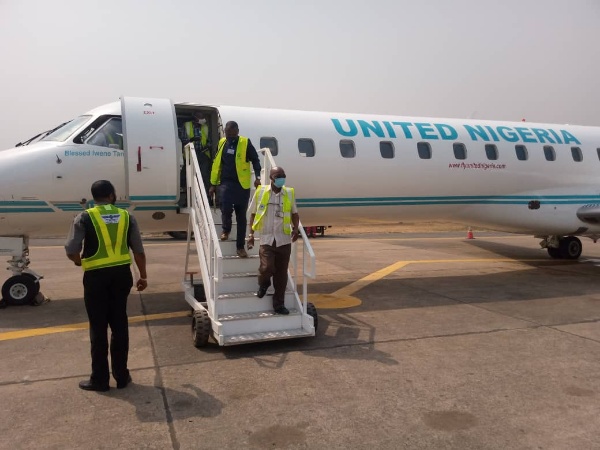 A United Nigeria Airlines aircraft has skidded off the runway at the Murtala Muhammed Airport (MMA), Lagos. The aircraft, an Embraer 45 with the registration number 5N-BWW had just flew in from Abakaliki Airport in Ebonyi before skidding off the 18L runway of the airport upon landing.
The incident which occurred on Wednesday around 3pm made the aircraft to be stuck on the ground.
United Nigeria Airlines stated that Nigeria Civil Aviation Authority (NCAA) and the Nigerian Safety Investigation Bureau (NSIB) had also been duly notified and were on the scene of the incident.
According to Achilleus-Chud Uchegbu, Head, of Corporate Communications, the aircraft landed safely, but was forced to terminate its movement to the apron off the runway. He added that all passengers disembarked safely and were transported to the arrival hall alongside their luggage.
He explained that officials of the Federal Airports Authority of Nigeria (FAAN) were at the scene of the incident and alongside the airline's engineers who were working to move the aircraft to the hangar for inspection.
He further explained that the airline was already collaborating fully with the authorities.