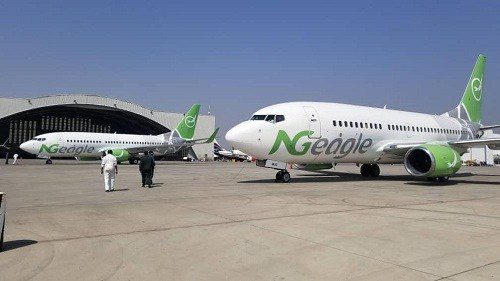 The National Union of Air Transport Employees (NUATE) has called on President Muhammadu Buhari's intervention in the crisis regarding the non-issuance of Air Operator's Certificate (AOC) to NG Eagle, the airline being planned by the Assets Management Corporation of Nigeria (AMCON).
The General Secretary of the union, Mr. Ocheme Aba, made the call during a media briefing at the Lagos airport on Wednesday.
At the briefing, the union said that the Association of Nigerian Aviation Professionals (ANAP) and the FAAN Branch of Nigerian Union of Pensioners (NUP) had earlier urged the NCAA not to issue AOC to start-up airline, NG Eagle over the fear that Arik Air was transforming itself to NG Eagle and would escape its heavy indebtedness to FAAN and other aviation Agencies and also insinuated that Assets Management Corporation of Nigeria (AMCON), the Receiver Manager of Arik Air, was using the assets of Arik Air to float NG Eagle.
The NUATE scribe said the issue of indebtedness of Arik Air to FAAN and the NCAA was only a smokescreen, adding that the real issue was the politics of a new national carrier and says the intervention by the Presidency is urgently needed to help avert a major mishap in the aviation sector and grant AMCON the space to continue to protect the employment of the employees.
"The underline issue to the crisis is that there are two sides, the minister's side is afraid that if NG Eagle succeeds it could metamorphose into a national carrier, and if that happens, ongoing efforts by the minister to form a national carrier could be ditched", General Secretary, NUATE, Comrade Ocheme Aba alleged at the briefing.
He emphasized that the denial of AOC to NG Eagle would shut out 20,000 potential jobs for Nigerians, alongside the opportunity for the reasonable number of Arik Staff to migrate to the new airline. "The reason for us clamoring for the NG Eagle's birth is because our interest is best protected by AMCON."