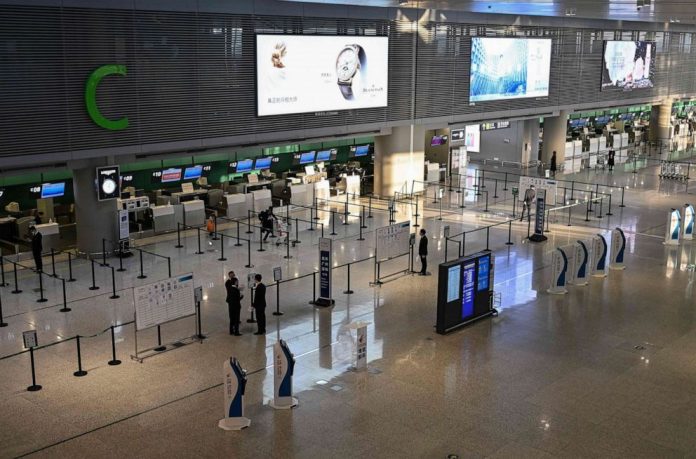 In its recent quarterly assessment, the Airports Council International (ACI) World has analyzed the impact of the COVID-19 pandemic, its effects on airports, and the path to recovery.
The assessment opined that despite strong headwinds, the industry is continuing to recover as more countries ease travel restrictions and open their markets, including Japan in the Asia-Pacific region. This coupled with the propensity for air travel will drive the industry's recovery, expected to reach 2019 levels in 2024.
As the world emerges from the worst health crisis of modern times, the global economy faces a new array of challenges. From the ongoing conflict in Ukraine to bottlenecks in global supply chains, there are risks that threaten to disrupt the pace of the post-pandemic recovery.
There are macroeconomic pendulums moving in opposite directions that are affecting air transport demand. Though higher input prices will inevitably impact the cost of travel, unemployment rates remain historically low with continued pent-up demand for air travel. Low levels of unemployment in the broader population and rising real incomes increases the propensity to travel.
However, some analysts argue that this may be short lived as central banks continue to tame inflation with higher interest rates, thereby contracting economies—the heightened downside risk of a recession that is characterized by both a contraction in output and higher unemployment levels remains omnipresent on the horizon. If this risk materializes, it could represent an important headwind for air transport on its path to recovery in major aviation markets.
The recent momentum created by the lifting of many health measures and the relaxation of most travel restrictions in many European countries and in the Americas has renewed industry optimism. It however exposed even more the uneven recovery—a notable gap exists among markets, especially where COVID-19 vaccine availability and uptake are limited, geopolitical conflicts are visible, or strict travel restrictions are still enforced.
For instance, major aviation markets in Asia-Pacific lagged behind their North American and European counterparts as they imposed restrictive measures for international passenger traffic especially through the lens of the first half of 2022—H1 2022 versus H1 2019. The Asia-Pacific markets of Japan at 39% of H1 2019 levels in the first half of 2022, Thailand (31%) and China (28%) were all well below pre-pandemic levels.
On the other hand, markets like Colombia, Mexico and Nigeria welcomed a surge in demand and exceeded their 2019 levels. The United States (87% of 2019), Spain (82%), Brazil (80%), and India (75%) were among other major aviation markets also making strides to close the gap with 2019 passenger levels in the first half of 2022.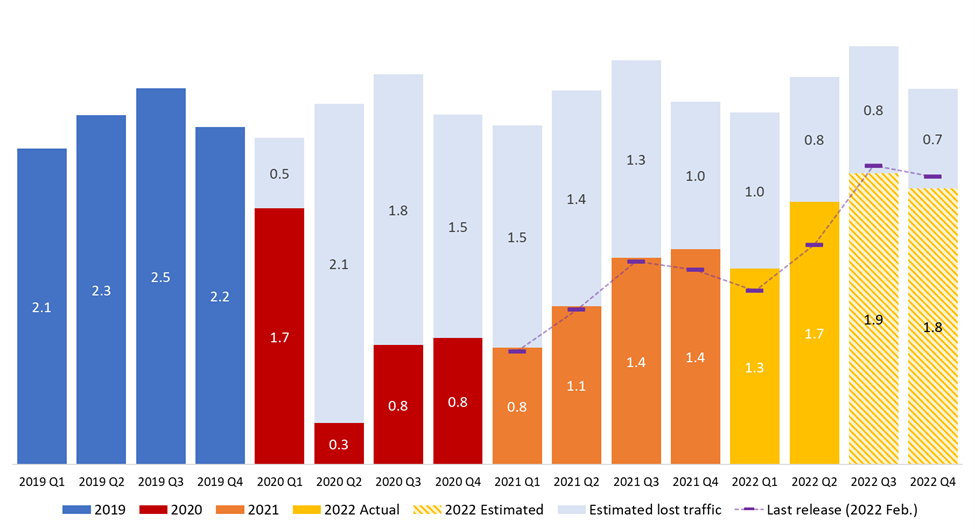 Projecting the path to recovery at this point is still an exercise requiring prudence. Weaker vaccination rates in emerging and developing countries and the risk of a northern hemisphere fall/winter outbreak globally may also represent further headwinds.
The speed of the recovery still depends heavily on a number of stakeholders and the level of coordination pursued by national governments across the globe. With the removal of travel restrictions and quarantine requirements for vaccinated travellers in the first half of 2022, there has been an upsurge in demand. Despite a number of headwinds, the baseline projections indicate that the industry as a whole will recover to 2019 levels by the end of 2023 or in early 2024. The recovery of the sector to pre-COVID-19 levels is expected to be driven mainly by domestic travel, which is projected to recover to 2019 levels by 2023. International travel is forecast to recover by 2024
This is a report published by ACI World. Full report is available at aci.aero