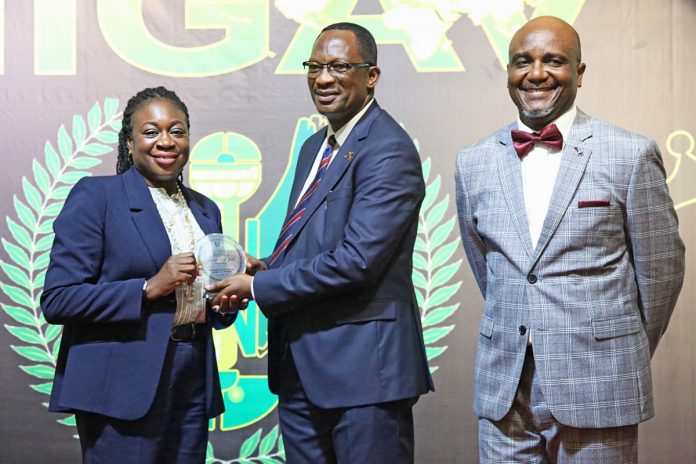 Skyway Aviation Handling Company (SAHCO) PLC has been voted the Best Passenger Front Desk Check-In Company of the Year for the second time in a row at the 12th edition of the Nigeria Aviation (NIGAV) Award in recognition of SAHCO's consistent quality service deliveries to her numerous clients.
The NIGAV Award is a celebration of aviation excellence with an objective to unify and create industry harmony. It is also aimed at engineering healthy competition for safer air service delivery and promotion of development in the air transport community.
The event was attended by the crème de la crème of the aviation industry including the Minister of Aviation, Senator Hadi Sirika. Speaking during the Award presentation which was themed "The Coming of a new era", Chairman/Chief host of NIGAV Award, Mr. Fortune Idu, said winners emerged through public voting and without any influence from the organizers. He praised SAHCO for consistency in ensuring topnotch services to clients by deploying modern Ground Support Equipment and always rendering services that are of international standards.
While accepting the award, SAHCO's Managing Director/CEO, Mr. Basil Agboarumi, who was represented by Mrs. Vanessa Uansohia, Head, Corporate Communications, said this award will spur SAHCO's commitment to always deliver quality services to her numerous clients in addition to exceeding clients' expectations. She thanked the organizers for nominating SAHCO and extended appreciation to voters who voted for SAHCO.
According to the Minister of Aviation, Senator Hadi Sirika who was the Chairman of the occasion, "Nigeria Aviation Award, NIGAV Award, has over the years hosted the high and mighty, and captains of the industry and as such has set an example of balancing industry performance with recognition for diligent work and services which continues to inspire healthy competition and best practices amongst the players."
SAHCO was recently awarded the International Organization for Standardization (ISO 9001:2015) certification for Quality Management system. ISO 9001:2015 is the international standard that identifies requirements for quality management system (QMS) which organisations use to demonstrate the ability to consistently provide products and services that meet customers' and regulatory requirements.