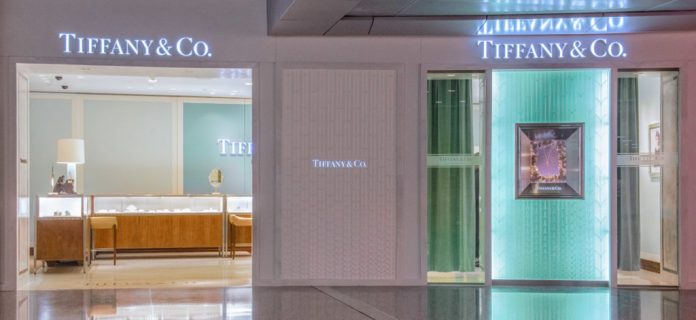 Qatar Duty-Free (QDF) has announced the opening of Tiffany & Co. boutique on Concourse B, bringing the iconic Tiffany blue boxes to the award-winning Hamad International Airport (HIA).
Complementing the variety of choices offered to travellers shopping at QDF, the new Tiffany & Co. boutique will offer customers glittering diamonds and more, with a range of classic and contemporary pieces. Branded in Tiffany & Co.'s iconic blue, the highly-anticipated boutique will bring joy to passengers at HIA.
Head of Qatar Duty-Free, Mr. Thabet Musleh, said: "We are delighted to reveal the new Tiffany & Co. boutique at HIA to showcase a sensational shopping experience for our customers. The world-renowned brand offers travellers an exquisite collection of luxury jewellery and gifts, which further enhances the five-star experience at the award-winning airport. We are committed to building Qatar Duty-Free's extensive profile of luxury brands, and with the opening of Tiffany & Co., we are fulfilling our promise that QDF is indeed an experience worth travelling for."
Tiffany & Co. Vice President for the Middle East & Africa, Mr. Joe Nahhas, said: "We are delighted to unveil our first branch at Hamad International Airport in collaboration with the multiple award-winning travel retailer, Qatar Duty-Free. Passengers can explore the world of Tiffany and immerse themselves in the brand's legendary style and impeccable craftsmanship whilst shopping for fine jewellery. This new store offers a welcoming environment and wide selection, ensuring that there is something special for the discerning traveller."
Conveniently located in the heart of HIA on Concourse B between the Burberry and Rolex boutiques, the Tiffany & Co. boutique is easily accessible to all passengers travelling through the departure terminal.
QDF boasts more than 90 elegant boutiques and luxury, high-end stores, as well as more than 30 restaurants and cafés covering an area of 40,000 square metres at Hamad International Airport (HIA), providing travellers with a world-class shopping experience under one roof. Luxury brands also available at the five-star airport include Gucci, Bulgari, Hermès, Giorgio Armani, Hugo Boss, Moncler, Rolex, and Harrods.
Qatar Duty-Free was recently awarded 'Airport Retailer of the Year' at the 2018 DFNI Global Awards. In addition, in April, the leading airport retailer was recognized at the PAX International Readership Awards, when Qatar Airways won 'Best In-Flight Duty-Free Program' for the Middle East and Africa, and was acknowledged as an industry leader for its outstanding in-flight duty-free service, which is operated by Qatar Duty-Free.
HIA the home of QDF, has already met a number of significant milestones in 2018, including being ranked fifth 'Best Airport in the World' and fourth 'Best Airport for Shopping' at the Skytrax World Airport Awards 2018. HIA is the only airport in the Middle East to be ranked in the world's top 10 airports of 2018. At the annual awards ceremony, HIA also took home the title of 'Best Airport in the Middle East' for the fourth year in a row, and 'Best Staff Service in the Middle East' for the third consecutive year.