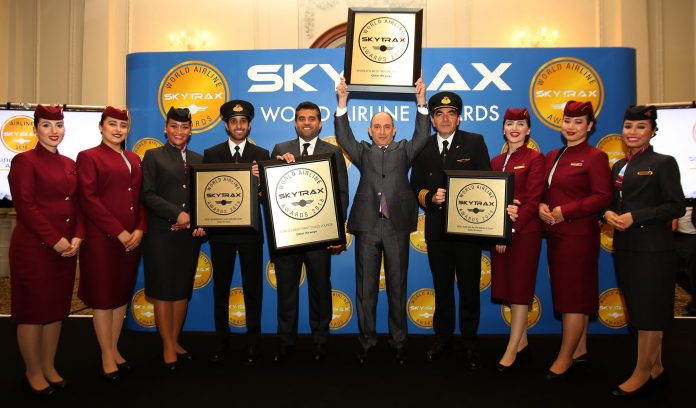 Qatar Airways is thrilled to have won four prestigious awards at this year's 2018 Skytrax World Airline Awards. The multi award-winning airline has once again been named 'World's Best Business Class' at this year's awards ceremony, held today at the Langham Hotel in London. This is the sixth time and third consecutive year that the airline has won this recognition. Qatar Airways Group Chief Executive, His Excellency Mr. Akbar Al Baker was at the awards to receive the accolades alongside Hamad International Airport Chief Operating Officer Engr. Badr Mohammed Al Meer.
In addition to being voted 'World's Best Business Class' by travellers from around the world, the airline was also named 'Best Airline In The Middle East', the fifth consecutive year it has received this tremendous accolade. Qatar Airways was also named 'Best First Class Airline Lounge' for the second consecutive year and 'Best Business Class Seat', in recognition of its ground-breaking Business Class experience, Qsuite.
Qsuite, a patented Qatar Airways product, offers a First Class experience in the Business Class cabin. Qsuite features the industry's first-ever double bed in Business Class, as well as privacy panels that stow away, allowing passengers in adjoining seats to create their own private room, a first of its kind in the industry. Qatar Airways proudly launched Qsuite at ITB Berlin in March 2017 to outstanding global acclaim, and has set a new standard for luxury travel with this innovative product. These awards demonstrate the quality of Qatar Airways' unrivalled level of service, and prove that the airline continues to win the confidence of the travelling public.
Qatar Airways Group Chief Executive, His Excellency Mr. Akbar Al Baker, said: "These prestigious awards show how far Qatar Airways has come in such a short time. In just over 20 years, we have risen from a small regional carrier to become a global airline, committed to innovation and to delivering the highest standards to our passengers. The patented Qsuite represents our commitment to innovation, as this revolutionary Business Class seat continues to set new benchmarks in the aviation industry.
"To have been awarded such accolades, in spite of the illegal blockade against our country, is a reflection of our commitment to excellence, innovation and to providing all passengers the finest service in the skies. The fact that the Skytrax awards are voted for by travellers makes them especially meaningful and reconfirms that our passenger-focused strategy continues to deliver the highest level of satisfaction to our loyal customers."
Qatar Airways also made headline news this week at the Farnborough International Airshow 2018, with a number of high-profile announcements, showcasing six aircraft from its award-winning and growing fleet, and hosting visitors both at its chalet and on board its aircraft. On the opening day of the airshow, Qatar Airways finalised a purchase agreement with Boeing for five Boeing 777-300ER Freighter aircraft to join the airline's Cargo division. Also on day one of the airshow, Qatar Executive, the private jet charter division of Qatar Airways Group, unveiled its latest aircraft, the Gulfstream G500 jet, which will join the fleet later this year.
The award-winning airline also committed to purchase five new CAE 7000XR Series full-flight simulators and two CAE 500XR Series flight training devices for the Boeing 777X and the 737 MAX from the global leader in training CAE.
Visitors, including VIPs, trade partners and media were welcomed on board the Cargo Boeing 747-8 freighter and the award-winning luxury Qsuite on board the Airbus A350-1000 and Boeing B777.
Guests also toured the Air Italy Boeing 737 MAX 8 – the second aircraft in the recently rebranded airline's striking new livery. The new Boeing 737 MAX 8 aircraft features modern and spacious cabins, superior operating economics and a greater fuel efficiency. The aircraft was recently launched in Seattle and flown to Milan for its inaugural flight – signalling a new era in aviation for the people of Italy. Qatar Airways previously strengthened its commitment to Italy in 2017 with the acquisition of 49 per cent of AQA Holding, the new parent company of Air Italy.
The award-winning airline also displayed the JetSuiteX Embraer 135 jet. The luxuriously reconfigured Embraer 135 offers 30 comfortable Business Class style seats.  In April 2018, Qatar Airways announced that it had taken a minority stake in JetSuite, and in JetSuiteX. JetSuiteX, the sibling company to JetSuite, offers semi-private scheduled air service on the U.S. West Coast and beyond.
Earlier this year, Qatar Airways launched new services to London Gatwick and Cardiff airports, strengthening Qatar Airways' position in the United Kingdom. Passengers can now choose from up to 95 flights a week, including six daily departures from London Heathrow, 16 weekly from London Gatwick and Manchester, and daily flights from Cardiff, Birmingham and Edinburgh.
Over the next year, the airline has plans to continue to expand its destinations, including Tallinn, Estonia; Valletta, Malta; Cebu and Davao, Philippines; Langkawi, Malaysia and Da Nang, Vietnam.