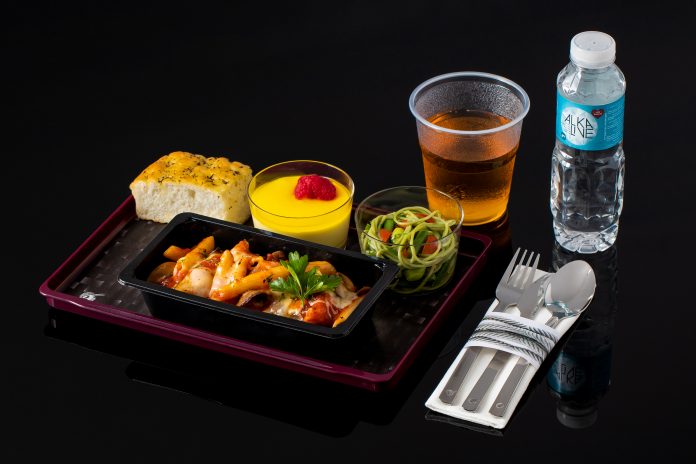 Qatar Airways has revealed a new Economy Class on-board experience branded 'Quisine',
designed to further elevate customers' dining experience when they travel with the award-winning airline.
To begin their dining experience, passengers will now be presented with redesigned menu cards which will include a service timeline on all long-haul and ultra-long-haul flights, ensuring they can plan their journey without missing anything on offer. A pre-dinner drinks option will also now be available on flights of more than five hours, with sparkling wine and cocktail snacks available prior to the main meal being served.
Food portions have increased by 25 per cent – 50 per cent with a greater focus on the use of local, fresh and healthy ingredients that are in season. Meals will also feature individually wrapped artisanal warm infused bread and an individual bottle of water. A wider selection of mid-flight movie snacks includes a tantalising array of cheese and crackers, chocolate bar, potato crisps and popcorn, with innovative flavours such as Himalayan Salted Caramel and French Butter and Pink Salt provided by gourmet popcorn brand 4700BC.
'Quisine' will be launched with a phased introduction across the airline's network from April, beginning with flights to and from Brussels, Cardiff, Gothenburg, Moscow and St. Petersburg.
Qatar Airways Group Chief Executive, His Excellency Mr. Akbar Al Baker, said: "These latest on-board dining enhancements will undoubtedly provide our passengers with an even higher level of satisfaction and luxury. We have carefully crafted our new Economy Class experience to offer a proposition that ensures our passengers' journeys are best in class.
"In addition to our products, which showcase a new retail style of tableware, we have also focused on the reduction of single use plastics with the introduction of more sustainable products. Working with local companies, in addition to esteemed suppliers such as Godiva Chocolatier and 4700BC Popcorn, ensures that we are offering our passengers a premium service in Economy Class."