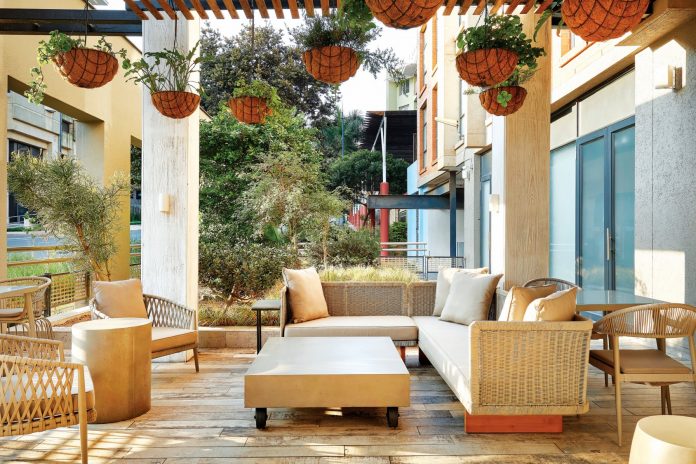 Protea Hotel Fire & Ice! by Marriott Durban uMhlanga Ridge officially opened this month, making it the first Fire & Ice! by Marriott hotel in KwaZulu-Natal and the fourth in South Africa. A highly anticipated addition to the brand's fast-growing portfolio, it joins Fire & Ice! by Marriott hotels in Melrose Arch (Johannesburg), Cape Town and Menlyn (Pretoria).
A short drive from King Shaka International Airport, Protea Hotel Fire & Ice! by Marriott Durban uMhlanga Ridge is nestled along the picturesque KwaZulu-Natal coastline in the sought-after seaside town of uMhlanga, just north of Durban. In close proximity to the breathtakingly beautiful uMhlanga Rocks Beach, the Gateway Theatre Mall and the Moses Mabhida Stadium, it provides easy access to the region's resplendent natural beauty, rich cultural heritage as well as its burgeoning energy and vibe.
Featuring the hallmarks of the Fire & Ice! by Marriott brand such as comedy and DJ nights, bold décor, and associates who go the extra mile, it is set to transform the hotel scene in uMhlanga and emerge as the new coolest hotspot. A Durban-inspired menu, a retro VW combi, DJ booth, and design elements linked to a beach and surf theme, lend the hotel its own unique flavour and twist.
"Durban is a dynamic, cosmopolitan city with a need for a hotel brand that matches its spirit. We are thrilled to introduce Fire & Ice! by Marriott (www.Marriott.com) brand with its trend-setting aesthetic fused with local influence to the thriving town of uMhlanga. Protea Hotel Fire & Ice! by Marriott Durban uMhlanga Ridge will provide the quirky, modern vibe that guests and locals in this area are looking for. The property reflects our agility and adaptability to identify and transform a property to suit an evolving destination," said Volker Heiden, Area Vice-President for Marriott International.
Previously a Protea Hotel by Marriott, Protea Hotel Fire & Ice! by Marriott Durban uMhlanga Ridge has been rebranded after a complete transformation
"This entailed heavy-duty renovations, an aesthetic metamorphosis, and a complete change in operations. Fire & Ice! by Marriott hotels dare to be different − they are progressive and fun, and while each hotel is individual in its personality, it is this edge that unites them under the brand. We had to balance that in creating this beautifully sassy hotel," said the designer of Protea Hotel Fire & Ice! by Marriott Durban uMhlanga Ridge, Peter de Klerk.
205 completely renovated chic and stylish guest rooms offer both comfort and thoughtful amenities including complimentary Wi-Fi. Guests can enjoy a sumptuous buffet breakfast at the Breakfast Room on the first floor and choose indoor seating, one of the two private dining rooms or the outdoor deck. Whether you're swinging by for a crafted cocktail or looking for an indulgent delicious meal, the stylish restaurant, which features sophisticated neutral décor and delicious global cuisine prepared in an open kitchen offers the ideal venue with both indoor and a scenic outdoor patio seating option. The new menu reflects a strong African focus rooted in KwaZulu-Natal's culinary specialties. Guests can expect a fresh take on the likes of bunny chow and curry, with a Fire & Ice! twist and elegance as well the brand's signature (egg-ceptional) Fire & Ice! By Marriott breakfast options.