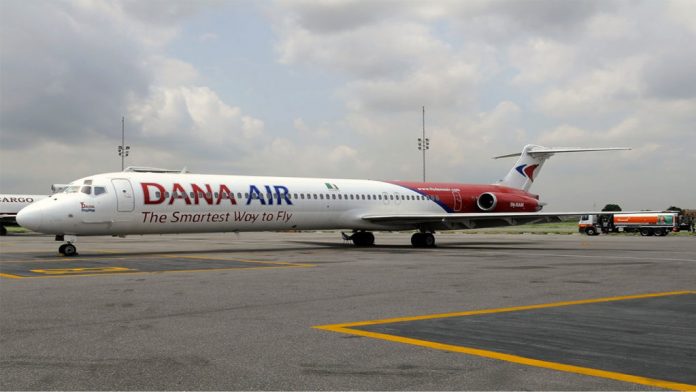 Nigeria's commercial airlines have the oldest aircraft fleet in Africa, with the age of an aircraft in one of the airlines, being 28.1 years, the age many planes are either due for retirement or decommissioning or may have been retired at least some years earlier.
In sharp contrast, major African airlines, such as Ethiopian Airlines, South African Airways, Africa's oldest, Rwandair, Royal Air Maroc and Kenya Airways have fleets with average age of between 11.4 years and 5.8 years. Rwandair, founded in 2002 and the youngest of the African airlines, has fleet average age of 7.1 years.
A random check of the fleet of Nigeria's airlines shows that Arik Air has the youngest fleet of 23 aircraft, with average age of 11 years. Dana Airlines, which started operations in November 2008 has the oldest fleet of a range of McDonnell Douglas MD-80, with one of them, still in use, 28 years and one month old.
According to data provided by planespotters.net, Dana Airlines aircraft are the granddaddies of planes plying the Nigerian skies. At present, it operates six aircraft, all MD-80s, with the youngest delivered October 2014 and registered as 5N-BKI. It is now 22.3 years old. Another plane in the fleet, 5N-SAI is 28.1 years old.
Air Peace, with a fleet strength of 20 aircraft averages 19 years. It has 13 Boeing 737, with average age of 22.3 years and 2 Boeing 777, with average age of 18.1 years. However, two of the Boeing 737-500 in its collection are between 25 and 26 years old. One of them was acquired in July 2014 and another December 2014. However, Air Peace, boasts of four Embraer ERJ-145, being run by its subsidiary, Air Peace Hopper, with an average age of 19 years.
Medview, which was founded in 2007 has five planes, all Boeing models. They included a Boeing 777-200(5N-BVY), which is 16.7 years old, Boeing 767, 23.6 years old and three Boeing 737-400, with an average age of 20.9 years.
Azman Air Services, which took off in 2010 has four aircraft in operation, which notch an average age of 20.9 years. The airline has two Boeing 737-300 and two Boeing 737-500, averaging 20.9 years.
Max Air, which entered the Nigerian aviation business just this year, has six aircraft, with average age of 20.4 years. Apart from an Embraer ERJ-145, which is less than 10 years old, all the other aircraft in its fleet are 20 years and above.
Aero Contractors, Nigeria's oldest airline with a peerless safety record, has 11 aircraft in operation. Among them are nine Boeing 737, with an average age of 26.5 years and two De Havilland Canada DHC-8 Dash 8 planes, aged 17.8 years. The airline, which was founded in 1959, is now being run by AMCON, along with Arik Air, following huge indebtedness to the banks.
Arik Air entered Nigeria's turbulent aviation business in October 2006 with a grand ambition to operate with new aircraft, instead of the creaky 'Tokunbo' aircraft being used then and now by airlines in the country. So it ordered new planes, with the oldest in its fleet today being four Bombardier CRJ-900 planes delivered in 2006 as new. They are now 12.6 years old. Arik also has one Bombardier CRJ-1000 bought new in 2014. It is now five years old. It has 13 Boeing 737, with average age of 12.1 years and an Airbus A340, which is 10.4 years old.
In contrast to the ageing commercial airlines in Nigeria, Ethiopia Airlines, Africa's largest has 104 aircraft, with an average fleet age of 5.8 years. The airline, which started business in 1945 has ordered for four planes that will increase its fleet size to 108. Ethiopian Airlines has a whopping 23 Boeing 787 Dreamliners, with average age of 3.4 years, 17 Boeing 777, with average age of 5.2 years, 26 Boeing 737, with an average age of 7.9 years, nine Airbus350, with an average age of 1.4 years and 23 DHC-8 Dash 8, which are 5.4 years old. The oldest aircraft in the fleet of the airline based in Addis Ababa are six Boeing 767, which are 16.3 years old.
Kenya Airways has a fleet size of 39, with an average age of 6.8 years. The Nairobi based airline has 12 Boeing 737, 10 years old, three Boeing 777, which are 4.7 years old, nine Boeing 787 Dreamliner, 4.1 years old and 15 Embraer ERJ-190, which are 6.3 years old.
Royal Air Maroc, founded in 1957 has 51 aircraft in operation with an average age of 11.4 years. They are 37 Boeing 737, which are 12.3 years, five Boeing 787 Dreamliner, which are 2.8 years old and four Embraer ERJ-190, which are four years old.
South Africa Airways fleet has an average age of 11 years. Among them are 21 Airbus A320 and A330, with an average age 4.7 years. It also has 16 Airbus A340, with an average age of 15 years and seven Airbus 319, average age of 13.8 years. The oldest planes in the fleet are three Boeing 737, which are 27.5 years old.
Rwandair, with Pan-African ambition like Ethiopian, South African Airways and Royal Air Maroc, has 13 aircraft, with two more Airbus A330 on order. The average age of its fleet, that comprised six Boeing 737, two Airbus A330 and two Bombardier CRJ-900 is 7.1 years. The oldest plane in its collection is one De Havilland Canada DHC-8 Dash 8, which is 11.5 years old, far much younger than many of the planes flying in Nigeria's airspace.
A recent study by SGI Aviation, ordered by IATA said the average retirement age of a freighter aircraft is 32.5 years and for a passenger aircraft 25.1 years.
The study said aircraft retirements are generally governed by a number of principles: – More than half of the aircraft which are utilised for commercial operations are retired between the age of 20 and 30 years; Freighters accounted for 17% of all the commercial aircraft retirements. Freighters tend to retire later than passenger aircraft.
It found that the average retirement age for aircraft increased from 18.8 years in 1980-1984 to 29.4 years in 2005- 2009.
The retirement age dropped to 27.6 years in the last six years due to the record-high oil prices in early 2010s.
According to another report, some of the factors governing the retirement of aeroplanes are pressurisation cycles, hours of flights and fuel efficiency.
A Boeing 747 can endure about 35,000 pressurization cycles and flights—roughly 135,000 to 165,000 flight hours—before metal fatigue sets in and is retired at approximately 27 years of service, said the report written two years ago.
NAN