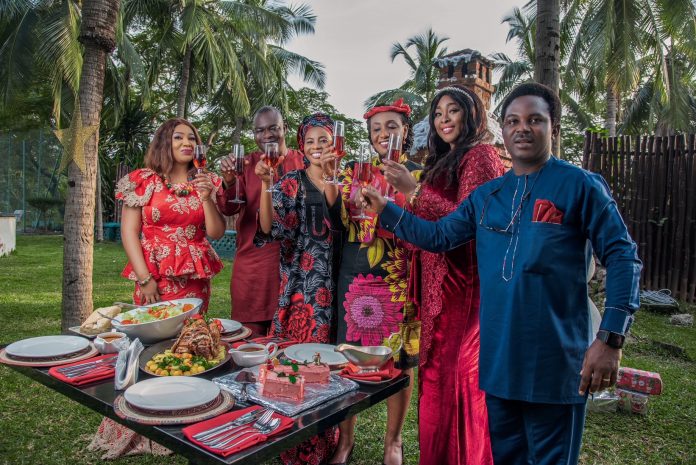 For Lagos Marriott Hotel Ikeja , Sheraton Lagos Hotel and Sheraton Abuja Hotel, it is the most favorite time of the year and the holiday festivities will create opportunities for families to bond and friends to connect.
Noemi Delgado-Cluster Director for Sales & Marketing for all the three properties in Nigeria announces, "I am excited to unveil all we have in store for our esteemed patrons this season. Our offerings will guarantee pure magic and fun to match the season."
From 1st of Dec, all three properties will stand out in various eye-catching themes sure to excite clients so much so that a visit to each property will unlock that festive spirit. Christmas photo booths and various themed spaces will deliver family photo opportunities along with a free photo frames for room and restaurant patrons and soul lifting caroling events during the yuletide.
To set the staycation tone across all the hotels; loyal customers will enjoy special discounted room packages and those planning holiday staycations will experience a most enriching time with family and loved ones. With up to 60% discounts off standard rooms and suites, each customer will find the right fit. These offers will include buffet breakfast for two adults, two kids aged 0-6 yrs., welcome drinks, themed gifts and no. of free Bonvoy points.
Lagos Marriott Hotel Ikeja guests will experience the perfect ambience. A life size ginger bread house will debut Christmas right on the hotel grounds and Christmas favorites such as delicious flavored cookies and cakes will be sold. Visitors arriving will sight the tallest Christmas tree in the area; meant to inspire those long awaited yuletide family Photos while exciting fireworks will usher in the new year.
Sheraton Lagos Hotel customers will be thrilled by the colorful array of Christmas decorations set up to spark off the spirit of the season. The lobby has been set to be the perfect holiday hangout choice for families and friends throughout the period.
Those visiting Sheraton Abuja Hotel will be thrilled with the hotel's theme of an African Christmas celebration. The entire hotel will be decked out in the most authentic African themes, delivering a truly unique perspective of an African Christmas in Nigeria.
An exciting Santa's Grotto with African Santa at the Hotel Foyer will feature for kids while Abuja residents will enjoy a curated African Christmas market & food court at the lobby & house of cannoli with discounted shopping rates, eclectic street food, cocktails and music to inspire you more. Other exciting offerings will debut from December 1st to 25th, 2021.
"We have an inventive line up of food and beverage offers across all our restaurants. Lagos Marriott Hotel Ikeja will commence Christmas offerings with a delicious 4 course meal spread at the hotel's latest Asian fusion Restaurant-Wakame .
A starlight light dinner and lunches by the beautiful water at Azure Grill will feature as well as an all you can eat buffet at Koriko & Co. Each festive meal will be crafted to unlock discovery and excitement with each bite. Christmas gifts will be given out on Christmas day by our Santa Clause to all our diners. Our Christmas meal promos will run till the 2nd of January. Ticket sales for all meals will start from the 1st of December to make the yuletide dining experience much more seamless.
At Sheraton Abuja Hotel our patrons will enjoy our delightful Christmas Day Brunch with a welcome drink at the Papillion Restaurant; an invigorating sit out over festive meals at the Pool Bar & Luigi's Restaurant. Special bounce back offers for diners on 25t – 26th December 2021 and 1st – 2nd January 2022 will be available. On social media fans can expect to see a variety of engaging Social media activities as well as a lineup of buy 1 get 1 free offers from Dec 4th-25th, 2021.
Sheraton Lagos Hotel patrons will savor compelling celebratory meals on offer all day to add good cheer. A special Christmas & Boxing Day Breakfast will avail from 6:00am. A Christmas Brunch Buffet will feature from 12:00noon while Christmas dinner will make its entrance with all things delightful at the hotel's Pumpkin Leaf Restaurant.
To usher in the New Year, a memorable New Year's Eve buffet dinner will be available December 31st followed by a most engaging New Year count down Celebration at the Poolside Restaurant. New Year's Day guests will savor the first breakfast and Brunch till 4pm alongside spectacular live band performances for the pleasure of the Pumpkin Leaf diners. Guests are sure to enjoy the delicious offerings from our New Year's Day dinner. Those looking for more elevated dining will experience our La giara Italian Restaurant offerings; a most compelling four-course menu and exceptional culinary delights for Christmas Eve, Christmas Day and New Year's inclusive of free welcome drinks.
At Marriott Hotels we create memories to ensure our customers keep coming back for more. we cannot wait to deliver the magic of Christmas to everyone" concludes Noemi.
PS: T&C's apply on all offerings which may vary depending on hotel & reservation type).