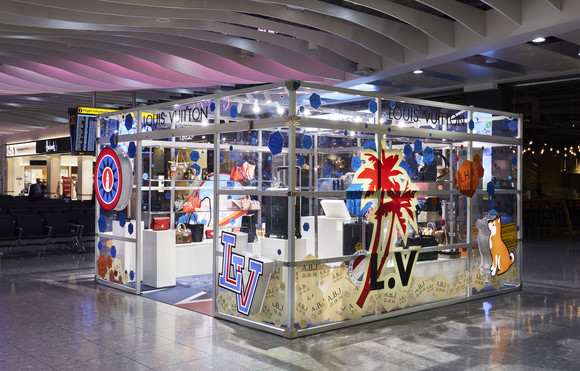 Heathrow has announced the opening of a new Louis Vuitton pop-up store at Terminal 4. The  20sqm space opens this week and will run for five months, ahead of a permanent Louis Vuitton store that is set to open in November 2018. This follows previous store openings in Heathrow Terminal 5 in 2014 and Heathrow Terminal 3 in 2017.
The pop-up space at Heathrow Terminal 4 is inspired by the 'My LV World Tour Collection' that pays homage to Gaston-Louis Vuitton's private collection of destination stickers. Giant monogrammed name tags alongside stickers of famous monuments and landmarks adorn the store's see-through façade, referencing labels from the 1930s that were originally affixed to trunks and luggage to symbolize the art of travelling and exploration.
The pop-up will feature a selection of both menswear and womenswear signature leather goods and accessories, inviting Heathrow travellers to discover the world of Louis Vuitton for the first time in Terminal 4.