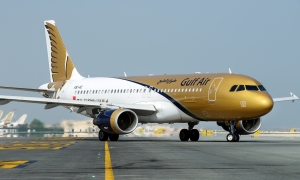 Gulf Air, the national carrier of the Kingdom of Bahrain, and Etihad Airways, the national airline of the United Arab Emirates, are set to explore deeper cooperation following the signing of a Memorandum of Understanding (MOU) at the Bahrain International Airshow.
The wide-ranging MOU covers scope to introduce joint codeshare operations between Abu Dhabi and Manama, as well as on the global flight networks beyond the two carriers' GCC hubs.
The MOU also contains plans for greater commercial cooperation in the fields of cargo, engineering, guest experience and the optimisation of pilot training facilities.
The MOU was signed on the first day of the Bahrain International Airshow, currently taking place at the Sakhir Airbase, by Mr. Tony Douglas, Group Chief Executive Officer of Etihad Aviation Group, and Mr. Krešimir Kučko, Chief Executive Officer of Gulf Air.
Mr. Krešimir Kučko said: "The relationship between Bahrain and UAE is strong in many fields including aviation and today with the signing of this MOU we enrich the relationship by cooperating with Etihad Airways. This is an example of how two airlines can work hand in hand for greater mutual benefits. We are happy to work with our friends and colleagues in Etihad and support each other to achieve bigger goals."
Mr. Douglas said: "The deep ties between Abu Dhabi and Manama are well-known in the aviation world and date back nearly 70 years. Therefore the natural way to build upon those ties is to examine ways in which the two flag carriers – Etihad and Gulf Air – can work more closely together to improve business operations and enhance the experience for our guests.
"We look forward to the Etihad and Gulf Air teams coming together during the next few months to look at how we can put that in place, whether it is in codeshare, engineering, cargo, or through our frequent flyer programmes."
In addition to exploring codeshare operations, the teams at Etihad Guest and Gulf Air Falconflyer loyalty programmes will shortly begin discussions which would see members of each programme being offered reciprocal earn and burn opportunities.
The teams in both carriers' engineering and cargo divisions are also set to begin talks about greater cooperation. These discussions would look at optimising MRO (maintenance repair operations) opportunities, as well as ways to increase volumes of freighter traffic flowing into and out of Abu Dhabi and Bahrain.
Gulf Air currently operates four return daily flights between Bahrain and Abu Dhabi while Etihad currently operates three return daily A320 operations between Abu Dhabi and Bahrain.A