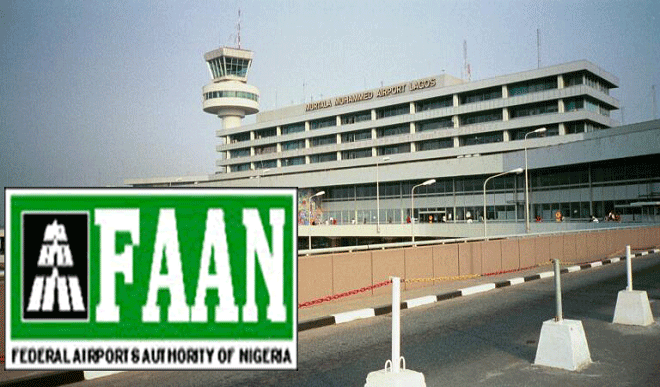 Arik air suspends flights 
The Federal Airports Authority of Nigeria (FAAN) had on Sunday, December 9, 2018, issued a notice to airlines, passengers and the general public informing them of the withdrawal of the services of Security officers and Airport Fire and Rescue Services from MMA2, Gombe,  Kebbi and Bebi airports. The notice which is effective midnight of following a final notice of payment issued to the above airports over a month ago.
The four airports are operated by private firms under concession agreements for state governments (the Gombe and Birnin Kebbi Airports), the MMA2 owned by the Federal Government is operated by Bi-Courtney Aviation Services Limited, while the Osubi Airport in Warri is operated by Shoreline Oil Services for Shell Petroleum Development Company of Nigeria.
This action has become imperative as the management of Gombe airport is indebted to the Authority to the tune of #607,289,972, while Kebbi and Bebi airports are indebted to the tune of #124,547,240 and #76,772,948 respectively without any concerted effort to pay up the debt.
The Authority has issued a Notice To Airmen (NOTAM) to this effect so as to give operators into the airports the opportunity to review there logistics plan. According to experts, these are safety-critical services without which no airport could process flights.
FAAN, in a Notice To Airmen (NOTAM) worldwide on Saturday, said it would be withdrawing aviation security, firefighting and rescue operations from Osubi, Gombe and MMA2 beginning midnight Sunday, December 9, 2018.
Henrietta Yakubu, FAAN's general manager for corporate communications, said the agency had given notices to the operators of the airports and affected state governments before the decision was reached.
The breakdown of an N1.9 billion debt owed FAAN by Bi-Courtney Aviation Services Limited (BASL) as at July 31, 2018, showed N1.4 billion for the provision of aviation security; N143.5 million for fire/safety cost; marshaling, N2.2 million; and an undisclosed management cost. It will be recalled that the MMA2, arguably the best operating terminal in the country, has been the subject of protracted legal dispute between BASL, its concessionaire, on the one hand, and FAAN and the Federal Government on the other. While FAAN alleged it is owed a debt of N1.9 billion for support services rendered to the terminal from 2007 till date, BASL demanded that FAAN and the Federal Government obey a court order and pay N200 billion for running the GAT illegally.
Following the withdrawal, Arik Air has notified its passengers of flight suspension through the affected airports. While confirming the development via a statement issued in Lagos, Arik Air's Communications Manager, Mr Adebanji Ola, "In a Notice To Airmen (NOTAM) issued on Dec. 8, FAAN stated that it will be withdrawing Aviation Security, firefighting and rescue operations from Osubi, Gombe and MMA2 from midnight of Dec. 9.
"Consequently, Arik Air will be suspending its flights to Osubi Airport, Gombe Airport and move Port Harcourt flights out of MMA2 from Dec. 10, until further notice," Ola said.
He advised Warri passengers to use Benin Airport as an alternate while Gombe passengers are to use Bauchi Airport as an alternate.
"All Arik Air flights to Port Harcourt Airport, Omagwa, will as from the same date operate from Murtala Muhammed Airport Terminal One otherwise known as General Aviation Terminal (GAT).
"Arik Air regrets any inconvenience the closure of the three airports may cause its esteemed customers.
"The airline hopes the issue between FAAN and the airport authorities will be resolved soonest," he said.