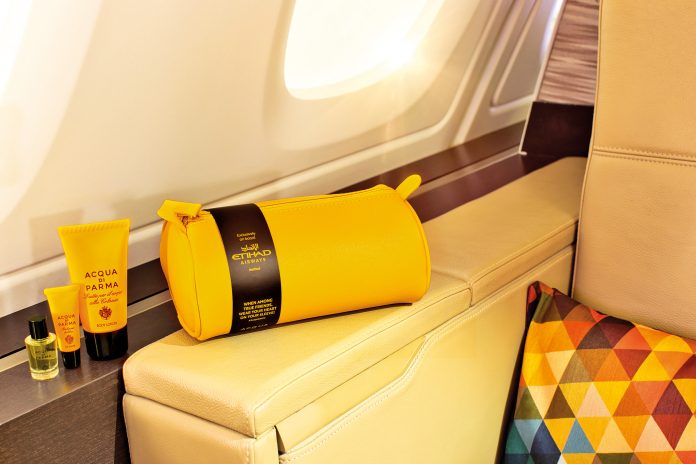 Etihad Airways has launched a major new partnership with the Italian fragrance brand, ACQUA DI PARMA. From August, the UAE national airline will introduce a range of exclusive amenity bags and toiletries for its customers travelling in The Residence on its Airbus A380s, and on long-haul First Class and Business Class services. The iconic brand will also feature in the airline's flagship First Class Lounge & Spa in Abu Dhabi.
The new collaboration was celebrated with a curated event at the St. Regis Hotel's legendary Abu Dhabi Suite, which was decorated in a style inspired by the perfumer, and featured a unique perfume room where guests were given a personal fragrance experience by a team from ACQUA DI PARMA.
The event also saw the screening of a specially commissioned short film showcasing the partnership. Depicting a guest on an Etihad flight admiring the plush surroundings of his Business Class seat, the film shows him being instantly transported on a sensory journey to the landscapes of Italy by taking in the scent of ACQUA DI PARMA's famous Colonia fragrance offered onboard.
Linda Celestino, Etihad Airways Vice President Guest Experience and Delivery, said: "ACQUA DI PARMA is universal in its appeal, effortlessly combining, traditional know-how, craftsmanship and innovation with a modern Italian, yet very international flair. We could think of no better brand partner who stands for the same understated elegance, focus on design, luxury and warmth associated with Etihad as a world-leading airline. We look forward to exploring opportunities to expand our partnership even further."
Etihad Airways' association with ACQUA DI PARMA began in 2014, when the airline started offering the brand's luxury toiletries in The Residence. Founded in 1916 in the historic city of Parma, and part of the LVMH Group since 2001, ACQUA DI PARMA has worked closely with Etihad Airways to tailor its unique products to each stage of the guest experience, on the ground and in the air, using its signature Colonia, a perfume with a formula which has remained unchanged for 102 years, along with a selection of additional fragrances in The Residence.
CEO & President of ACQUA DI PARMA, Laura Burdese, said: "After 102 years, ACQUA DI PARMA has become an icon of Italian style, the essence of sophistication and effortless elegance Italy is known for around the world. We are extremely selective when choosing brands to associate with, but partnering with a world-leading airline like Etihad was a natural choice due to its premium services and high-end inflight experience.
"Extending this partnership through an exclusive selection of products in The Residence, First and Business Class, centered around our signature Colonia fragrance, was a highly anticipated extension and development of this long-term association. I see this partnership as an enhancement of a relationship founded on the same shared values of excellence and quality, and the perfect opportunity to bring the Italian warmth and refined elegance over the world in the most gratifying way possible."
In The Residence, the airline's revolutionary three-room cabin on Airbus A380 aircraft flying from Abu Dhabi to London, Paris, New York and Sydney, guests are provided with a bespoke range of fragrances and toiletries provided in their own private shower room, including a Colonia amenity kit. Colonia Pura is provided for men and Magnolia Nobile for women.
Yellow, the colour synonymous with the Italian brand, is used for all First Class bags, while Business Class bags are offered in the same yellow, and also in black.
The First Class unisex cylinder bag contains a miniature bottle of Colonia, a 40ml body lotion and lip balm. First Class toiletries include Colonia hand wash and hand cream, and Colonia bathroom amenity kits feature shower gel, body lotion, hair shampoo, and hair conditioner.
The Business Class unisex wallet bag, which can be buttoned to create a stylish and useful valet tray, contains a Colonia sampler and hand cream, which will also be dispensed in the Business Class washrooms.
Ms. Celestino adds: "Just as Etihad is not just simply an airline, ACQUA DI PARMA is more than just a fragrance. Both are respected and loved luxury brands. This partnership showcases refined Italian style and Arabian hospitality and we know it will prove very popular with our guests. The range of products chosen will enhance their comfort onboard and will also define their journey through this new sensory experience.
"It also highlights cross-cultural similarities and the importance of the sense of smell throughout everyday life, which can elevate the mood, and links fragrances to memorable experiences. The original Colonia was sprayed onto gentlemen's tailored suits as a finishing touch, just as Oud would be anointed onto the Farokha tassel of an Emirati Kandora, or sprayed onto the Abaya."
ACQUA DI PARMA products will also be offered in the washrooms and shower facilities at the airline's award-winning First Class Lounge & Spa at Abu Dhabi International Airport.