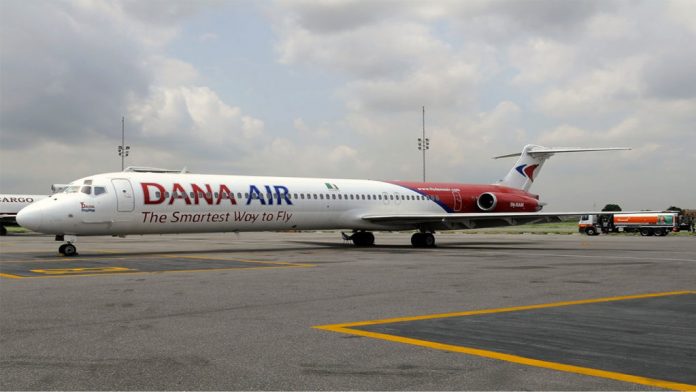 As part of its partnership with Togolese Carrier, Asky Airline, Dana Air has finally introduced a Boeing 737-700 airplane to its fleet. The introduction of the aircraft to its fleet would assist it to operate flights between Lagos and Abuja with the inaugural flight operated on Monday.
Dana Air's partnership with Asky Air which commenced on Monday saw the arrival of one of the three aircraft expected to kick-start the partnership agreement that include an interline and codeshare.
According to the Accountable Manager of the airline, Obi Mbanuzo, the lease agreement is called 'a complicated wet lease' and stating that the Asky aircraft will operate with a branded Dana Air interior, Dana Air's call sign, Dana in-flight services and catering.
"We are flying those airplanes and adding more. Aircraft and pilots on board are Asky's and in the back we have cabin crew and they have theirs, it's a damp lease. But the pilot flying might be from Asky but he is Nigerian, who knows he may want to stay (laughs), " Mbanuzor said.
The partnership with Asky involves three (3) Boeing 737-700 aircraft with the three flying at different times. The partnership is expected to assist staff get acquainted and trained with the 737-700 aircraft type.
Mbanuzor said,  " When we announced in February that we are entering partnership with Asky, it involves so many things and people are already seeing the fruition. The initial partnership has various levels and what you are seeing now is the aircraft leasing aspect of the partnership, where Asky will provide us with aircraft."
" You know we have had some operational constraints, currently we have two of our aircraft in France undergoing C-Check, hopefully one will be back before the month end. Part of it is creating aircraft capacity. We are also preparing for fleet augmentation which is also successfully on track."
Mbanuzor also noted that there is no agreement between Dana Air and Ethiopian Airlines.