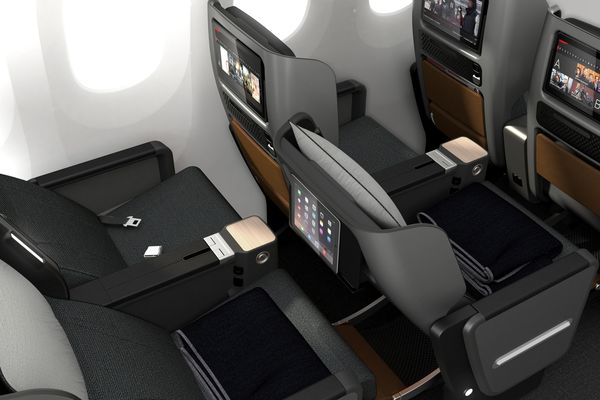 A wave of ultra-long flights that will get you halfway around the world in one hop is pushing airlines to deal with the one extra you can't escape: Relentless insomnia, debilitating fatigue and tormented bowels, better known as jet lag.
Qantas Airways Ltd., which will start the first non-stop service between Australia and Europe in March, is working with scientists in Sydney to discover ways to limit body-clock breakdown on the 17-hour flight. They've tried to make the color and intensity of the jet's interior lights mimic dawn and dusk. Cabin temperatures and specially made meals will aim to put passengers to sleep or keep them awake—depending on the time at the destination.
The Perth-London route is the latest endurance test as new aircraft technologies stretch the time a plane can stay profitably in the air. Emirates Airline, Qatar Airways and United Airlines are part of the movement, with flights from the Middle East to New Zealand or Houston to Sydney. The delivery of a new Airbus model later this year will allow Singapore Airlines to resume its 19-hour marathon from Singapore to New York, an epic stress test for mind and body.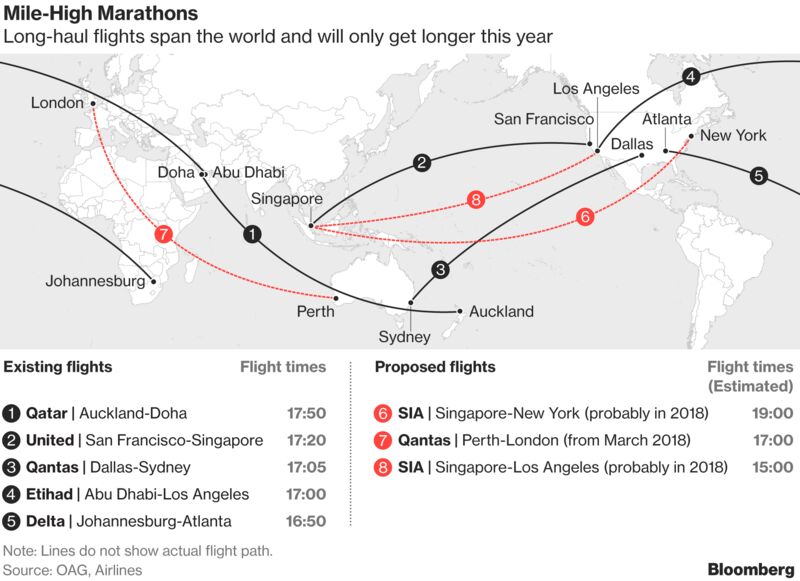 Key to the problem is circadian disruption—messing with the internal body clock that regulates everything from brainwave activity to hormone production and cell regeneration.
The main cue for resetting that clock is light, said Steve Simpson, academic director of the Charles Perkins Centre, which is carrying out the research with Sydney-based Qantas. But there's a baked-in biological catch: the clock can only reset by about 90 minutes a day, even in the right conditions. An ill-timed dose of sunshine or a badly chosen snack at the wrong hour can mean days of suffering, he said.
"What you can do is make sure you're pushing as quickly as you can to the destination time zone and getting the timing of things right," said Simpson. "The way you feel, the way you function—mentally through to bowel movements—is all ultimately controlled by your body-clock."
The Qantas tie up with psychologists, nutritionists and sleep experts at the University of Sydney's Charles Perkins Centre highlights an uncomfortable truth about ultra-long-haul jet travel: there's no way to completely avoid jet lag. But to fill the new long-range jets, Qantas and rivals like Qatar Airways, which flies from Doha to Auckland, need humans to better tolerate the effects of crossing the world in less than a day.
For airlines, the stakes are huge. Qantas is taking eight 787-9 Boeing Co. Dreamliners and has options and rights on another 45, a total investment of about $15 billion at current prices. Singapore Air has ordered seven ultra-long range A350-900s from Airbus SE, listed as being worth about $317 million each.
And it doesn't end there. As intercontinental air travel becomes affordable to more people outside the developed markets in Europe and North America, the demand for day-long direct flights is likely to rise. Qantas has challenged both big planemakers to build a jet by 2022 that can fly 20 hours fully loaded from Sydney to London without a break. Called Project Sunrise, it would put Rio de Janeiro, Cape Town, New York or Paris within direct reach of Australia's eastern seaboard, Qantas says.
But that sunrise on Copacabana beach or the Champs-Elysees comes at a cost. Long-haul journeys increase the risk of a range of afflictions including depression and obesity, Simpson said. To learn more, his team will wrap monitoring devices around the wrists and thighs of about 20 passengers on the Perth-London flight on March 24 to see how their bodies cope.
On that route, lights nestled all over the cabin will be phased in over 15 minutes to soften the blow from jet lag, said Phil Capps, Qantas' head of product planning & development. Blue light triggers wakefulness and yellow or orange tones encourage sleep, he said.
"To create that natural light on an aircraft traveling many thousands of feet in the air at a very fast speed requires a lot of science," said Capps.
While these very long flights have their own unique set of challenges, they can allow airlines to attract more higher-paying passengers in business class, who will pay a premium for the saving in time, said Joanna Lu, the Hong Kong-based head of Asian advisory at Flight Ascend Consultancy.
"Being stuck on an airliner for more than 18 hours is hard to bear," said Lu. "Unless you fly business."