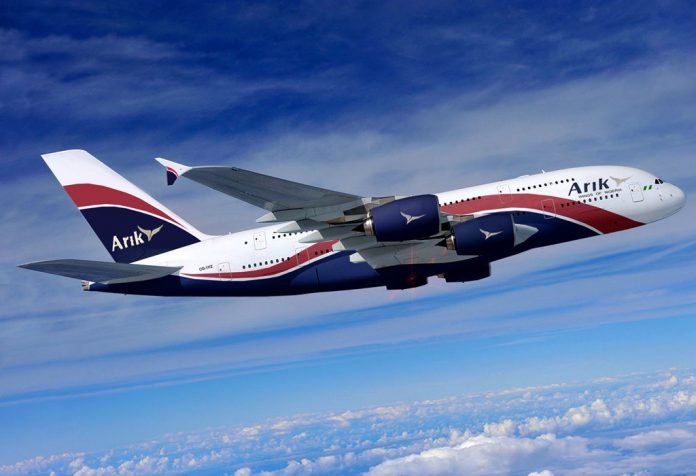 Arik Air, Nigeria's largest carrier has introduced a "super saver" fare which gives customers the benefit of making massive savings when they book early online to travel to any of the airline's domestic routes.
To travel to any destination within Nigeria, Arik Air customers can buy a one-way ticket from N16,000 provided such booking is made at least seven days before departure at www.arikair.com
The super saver fare is aimed at enabling more Nigerians experience air travel and reduce the stress of traveling by road especially at night. It will also enrich family and friends visitation, while giving opportunities for small businesses to take advantage of the massive savings to enhance their businesses in the New Year.
Commenting on the new fare, Arik Air's Chief Executive Officer, Captain Roy Ilegbodu said: "We are constantly evolving ways of adding value to our services to be more customer friendly and responsive to the yearnings of the traveling public. Air travel should not be an exclusive preserve and that is the reason for this low fare of N16, 000 aimed at making air travel more affordable."
"Our promise this year is that there will be something great and of interest for every customer of the airline."
The super saver dubbed "It's your time to fly" is Arik Air's way of enabling those who have never traveled by air to have a first time experience.
Customers wishing to take advantage of the advance purchase fare are advised to visit www.arikair.com  to make their bookings as the fare is only available online and at least seven days before departure.