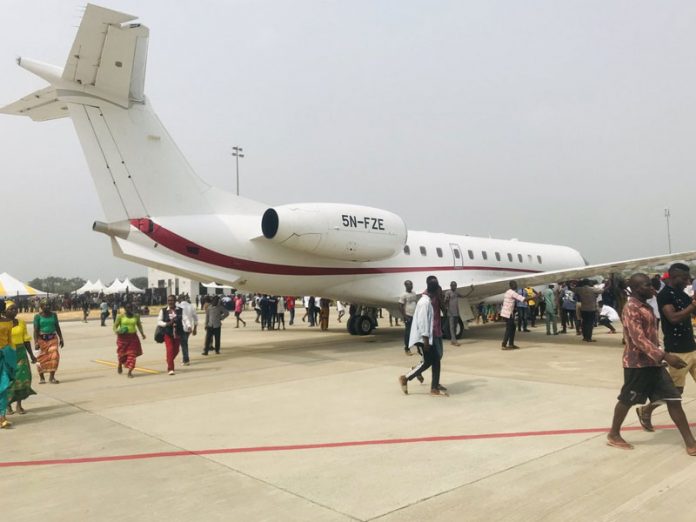 The Bayelsa International Airport has welcomed its first aircraft.  The airport was opened on Thursday with an inaugural flight by the state Governor, Seriake Dickson from Abuja followed by an Air Peace flight from Lagos.
The 3.5 kilometre runway airport built by handled by Dantata and Sawoe reportedly costs over N60bn according to the governor and has the ability to handle flights by big aircraft such as the Boeing 777.
The Governor stated that the airport which is expected to inaugurate both local and international flights soon, was built to improve the economy of the state by opening up the state to the world thereby attracting investments; export of agricultural produce; tourism and other economic activities.
Speaking further, the governor said the state government handled the entire project without input from the Federal Government or the Niger Delta Development Commission. The governor also appreciated the Federal Airports Authority of Nigeria (FAAN) and Nigerian Civil Aviation Authority (NCAA) for approving the project and also the contractors for building the facility to meet world standard.
Also speaking at the inauguration, the Commissioner for Information and Orientation, Mr Daniel Iworisoma, said the airport is expected to create over 2,000 formal and informal jobs for indigenes of the state. He further mentioned that the airport was strictly built for business, especially the oil and gas industry.
In his words he said, "We must put politics aside for us to have development. This is the first airport in Bayelsa, to help develop the economy. This airport will serve as a hub for the petroleum industry but we want to also look away from oil and gas and look at other revenue sources; so this is a legacy project."
Chief Operating Officer of Air Peace Mrs. Toyin Olajide hailed the government for the feat. She promised that the Memorandum of Understanding (MoU) signed with the state will facilitate regular flight services on the route. She enjoined the public to take advantage of the fight services in order to stimulate business.
The Airport Manager, Mrs Elizabeth Daitere, said for now, the airport is expected to operate day time flights, adding that necessary safety infrastructure was in place for commercial and cargo flight operations. She also said commercial flight operations for Bayelsa-Lagos-Bayelsa and Bayelsa-Abuja.