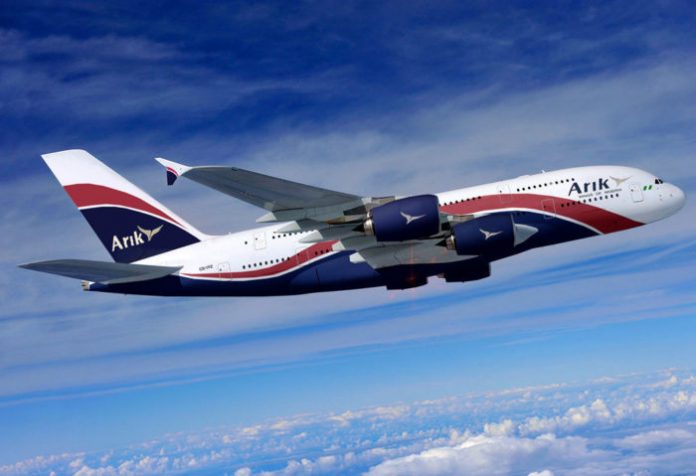 An Arik aircraft, one of the airline's Dash 8 Q-400 aircraft operating the Lagos-Asaba flight this evening made an air return to base due to a technical issue.
The aircraft was said to have landed safely and the Pilot in Command, in compliance with safety procedures, disembarked the passengers on the airside of the Murtala Muhammed International Airport.
The aircraft was later taxied to the Arik Air hangar for maintenance action and a substitute aircraft provided for the Asaba passengers.
One of the passengers aboard the aircraft, Nollywood actress, Uche Elendu had earlier taken to the social media to narrate her ordeal. She wrote, "My flight Arik air Lagos to Asaba just crashlanded in a remote area, we were 10 mins to Asaba but the gear failed the pilot had to reverse to Lagos. I am on a 20 minutes bus ride to the terminal now. Not a word of Apology from the crew. My God is a great God!!!! What God cannot do does not exist!! Thank God for me oo.
"What God cannot do does not Exist! My covenant with God is strong and He never lies!! Thank you, Jesus!
"Arik @flyarikair God punish you and your ill-mannered crew with demonic tongues. The male air host told me at the beginning of the flight that I should put my box under the chair, that it will save me in case of a crash, I said stop talking negatively, we will not crash in Jesus name!!! only Jesus can save me!
"He said there's nothing like Jesus keep fooling yourself and I said to him, Only a FOOL says there's no God. They freaking knew the aircraft was faulty!! Damn!!!!! Bring out my luggage let me go catch another flight. Lousy Bunch."
Arik Air has apologized for the inconvenience the incident may have caused while assuring passengers that their safety is of utmost priority.