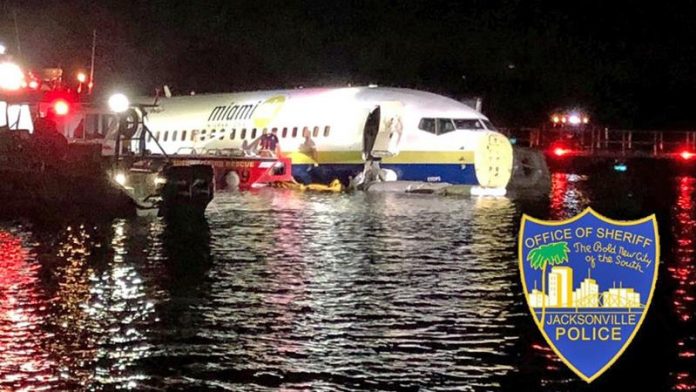 A Boeing 737 commercial jet had on Friday slid into the St. Johns River near Jacksonville, Florida. The airplane carrying 136 people on board slid into the river after landing.
Although there were no fatalities, there are however reports that some of the people onboard suffered minor injuries.
The plane was said to have attempted to land during a heavy thunderstorm.
The flight arriving from Naval Station Guantanamo Bay went into the river at the end of the runway at about 9:40 p.m. local time, the air station said.
At the time of filing this report, Boeing issued a statement to address the situation.
"A 737-800 charter flight operated by Miami Air International skidded off a runway at Naval Air Station Jacksonville and went into the St. Johns River Friday evening.
Boeing extends its well wishes to all those involved as 136 passengers and seven crew were reported on board.
Boeing is providing technical assistance at the request and under the direction of the U.S. National Transportation Safety Board (NTSB) as the agency conducts its investigation.
In accordance with the protocol governing aviation accident investigations, all inquiries about the investigation should be directed to the NTSB."