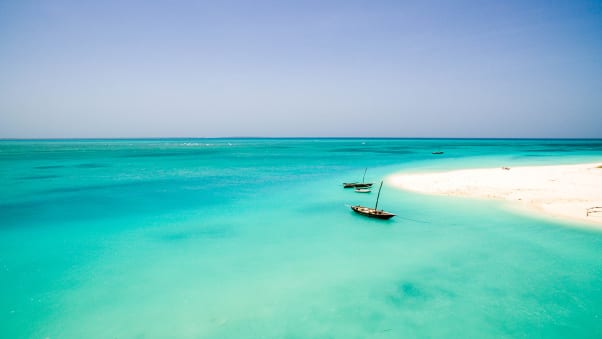 Often referred to as the "Spice Islands", the archipelago of Zanzibar is made up of a necklace of islands that bead their way down the shore of East Africa, off the coast of Tanzania. There's the main island, which has a UNESCO World Heritage Site for its capital, sister island Pemba, with its extensive clove plantations and the neighboring Mafia Archipelago, known for its majestic coral reefs and whale sharks. Others offer luxury retreats, diving adventures and secret sea life.
Here are six of the best islands in and around the Zanzibar Archipelago.
Zanzibar (Unguja)
The largest island in an archipelago of dozens, Zanzibar is actually named Unguja but referred to as Zanzibar colloquially. Located 35 kilometers from Tanzania's mainland, it's 85 kilometers at its greatest length and 39 kilometers wide. Several islands hug its shores tightly including Chumbe and Mnemba, and while it's laced with many beautiful salt-white beaches, Nungwi, Matemwe, Jambiani and Bwejuu are considered the loveliest. The island holds dozens of hotels that cater to every penchant and pocket.
While Zanzibar's famous clove industry is commonly associated with the main island, Pemba produces the lion's share of cloves in the region today. Nicknamed the "The Green Island" as it's hillier and more fertile than its sister island, Pemba is a 40-minute flight by light aircraft from Dar es Salaam. It's 48 kilometers north of Zanzibar and smaller in size. It's also much quieter, with far fewer tourists and only a handful of hotels. Manta Resort, based right at the northernmost point of the island, boasts a unique underwater room that floats offshore, with its own rooftop deck and lounge at sea level.
Mafia Island
Taking its name from the Arabic word "morfiyeh," which means "group of islands," Mafia is the third biggest of the isles that dot the Tanzanian coast. Although many assume it's part of the Zanzibar archipelago, Mafia is governed from the mainland and forms part of another small cluster of islands and atolls in the region. It lies to the south of Zanzibar and was once an important stop over for the trading vessels – from Egypt, Rome, Portugal and Greece – that plied these waters centuries ago. Like Pemba, Mafia is far less busy than Zanzibar and has some of the best diving in the world. The waters around the island are – on account of mainland rivers that tip into the sea here – extraordinarily fertile, meaning they host an astonishing population of whale sharks and are a popular breeding ground for humpbacks which return every year to breed.
Chumbe Island
Positioned a few kilometers off of Zanzibar, Chumbe is landmarked by a tall lighthouse, a sort of giant "You're Here!" exclamation mark which rises sharply, bone white, piercing the blue of the sky. Built by the British in 1904 by the British, the lighthouse has a place in the annals of maritime history. But Chumbe isn't just home to a secret host of sea life, it also boasts enormous, endangered coconut crabs and rare Aders's duiker. The eco bungalows, seven glorious chalets raised on stilts, are the only accommodation available and also the only place to eat. But you can easily enjoy Chumbe as a day trip from Zanzibar, snorkel the reefs and walk the coral rag island.
Mnemba Island
Dubbed the "Millionaire's Island," Mnemba Island lies just 4.5 kilometers off the northeastern tip of Zanzibar. At just 500 meters in diameter and 1.5 kilometers in circumference, this tiny island is wrapped by an oval reef — known as the Mnemba Atoll — a marine conservation area. Tantalizingly close yet out of reach of mere mortals' pockets, it's reached via a 90-minute drive from Stone Town through the lush spice plantations that blanket Zanzibar Island. Guests then board a boat for the last 20 minutes of the transfer. Mnemba Island is the single lodge here and it's composed of just 10 beachside "bandas," which offer the ultimate in barefoot luxury escape.
Thanda Island
Thanda, also known by its original name Shungu Mbili is, together with the similarly uninhabited islands of Nyororo and Mbarakuni, cupped between Mafia and Tanzania and situated within its own marine park. Part of the Mafia Island district, it's owned by Swedish entrepreneurs and philanthropists Dan and Christin Olofsson, who discovered it while embarking on a hunt for a private island retreat in 2006. Measuring just 250 by 200 meters, it only takes 20 minutes to circumnavigate on foot. Thanda offers some of the most sumptuous island living you'll find — a sprawling luxurious beach house, more Martha's Vineyard than tropic exotic.
Culled from CNN Travel