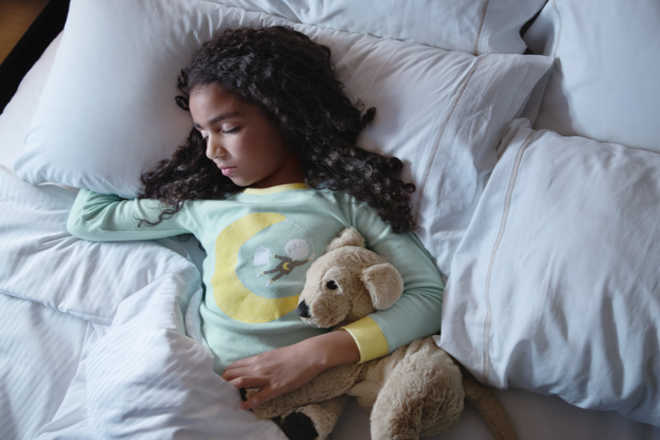 Westin Hotels and Resorts announced the launch of Project Rise: ThreadForward, an unprecedented sustainability program that collects, processes and reweaves hotel bed linens transforming them into thousands of pairs of children's pajamas.  The first-of-its-kind pajamas will be distributed to children in need, whose circumstances can contribute to shortened and more fragmented sleep. Beginning April 16th, Westin will give the gift of better sleep beyond the brand's hotels, in cities around the world: from New York and Toronto, to Mexico City and Cape Town, and will encourage guests to support by purchasing a pair of pajamas on westinstore.com to benefit the program.
"As people integrate wellness into their lifestyle more holistically on the road and at home, giving back has increasingly become important to their overall sense of well-being," said Brian Povinelli, SVP & Global Brand Leader, Westin Hotels & Resorts.  "Wellness is in the Westin brand's DNA, and Project Rise: Thread Forward is evidence that we can empower the well-being of our guests and associates as well as make a difference in the communities around us – hopefully inspiring change in the industry as a whole."
Last year Westin introduced a global campaign called Let's Rise, taking on the distractions and unpredictability of travel and empowering people to regain control of their well-being when they need it most, while traveling.  As part of the brand's rally-cry, Westin looked to their associates for an idea to empower the communities in which they live and work. The brand launched a challenge, Project Rise, asking associates to submit those ideas through the lens of the Six Pillars of Well-being; one idea would be selected and solution funded by the brand.  More than 325 associates from around the world submitted ideas; one inspired insight encouraged the brand to repurpose discarded bed linens that often don't have a centralized recycling process or recipient. 
Committed to helping guests get a good night's sleep since the game-changing debut of the Heavenly Bed® almost 20 years ago, Westin saw an opportunity to not only create an innovative industry-first upcycling program, but also empower sleep in an entirely new way.
"Sleep continues to be the foundation of well-being," asserted Charles Morin, PhD, President of World Sleep Society. "But despite this, one third of all adults and a majority of children are not getting enough sleep. Research suggests that, particularly for children, creating and preserving bedtime routines lead to more restorative sleep, which in turn improves physical and emotional well-being." The simple act of putting on pajamas as part of a bedtime routine is one way to improve a child's quality of sleep and cement long-term sleeping habits.
As a result of these insights, Westin tapped Clean the World, a leader in global health, best known for its soap recycling programs, and Divergent Energy, who sources the innovative technologies and solutions, to develop the hospitality industry's first system to collect, process and reweave the discarded linens into a new fabric for pajamas. In just 5 months, 50 Westin hotels around the world submitted approximately 30,000 pounds of bed linens & terry to be sorted, broken down and reweaved into new material, using industry best practices in textile manufacturing. A new and proprietary upcycling process was developed specifically for this program to ensure the new fabric met both U.S. Consumer Product Safety Commission (CPSC) regulations and provided the comfort sought in children's pajamas.
"Upcycling sheets into children's pajamas has never been done before," said Shawn Seipler, Founder and CEO, Clean the World. "As our partnership with Westin has grown over the past eight years through the bath & soap amenity program, we were excited when Westin came to us to help bring this vision to life. Westin's Project Rise: ThreadForward program is a phenomenal effort to continue to improve children's health and create a more sustainable future."
Designed in Westin's signature color palette, zest, mint and flax (grey), the pajamas feature a whimsical illustration of a child rising over a moon with a book – a nod to a better sleep empowering a better day – and will be created in sizes 2-8. With Delivering Good and their network of community partners, Westin and Clean the World will begin donating the first 1500 pajamas next month to children in need, who are most prone to suffer sleep anxieties, in markets around the world.
"Our mission to fight poverty and deliver hope to people in need aligns perfectly with what Westin was aiming to achieve with Project Rise: ThreadForward," said Lisa D. Gurwitch, CEO & President, Delivering Good. "We know that pajamas are among the most requested items of clothing sought by our charitable partners that support low-income households; and we are delighted to work with Westin, who shares our passion and commitment to lift communities and empower people to be their best selves."
As the global demand for well-being continues to grow and more people integrate wellness into their lifestyle, a new trend has emerged. Increasingly people consider giving back as an important part of their wellness routine, along with sleeping more, eating well and exercising.
In a recent global study:
·         77% global respondents say giving back enhances their overall well-being
·         Nearly 1 in 2 respondents in North America said it is very important to give back
·         80% of those surveyed globally have intentions to give back while traveling in the next 12 months
·         And while nearly 1 in 4 travelers surveyed have volunteered through their hotel, 89% of people globally are more likely to book a hotel that provides give-back opportunities.
In response, Westin has made it possible for guests to support Project Rise: ThreadForward as well. Beginning on April 16th, the children's pajamas will be retailed for USD $25.00 at Westinstore.com, and a portion of proceeds will go back to Delivering Good and continuing to support the efforts to give every child the opportunity to Sleep Well.
With its powerful penchant to give back, Westin continues to grow and evolve its programs and partnerships, addressing how wellness is integrated into consumers' lives through the brand's Six Pillars of Well-Being: Sleep Well, Eat Well, Move Well, Feel Well, Work Well, and Play Well.