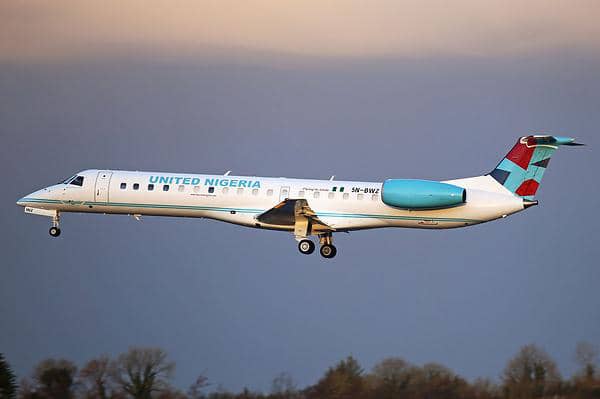 United Nigeria Airlines has received regulatory approval from Ghana Civil Aviation Authority (GCAA) to begin scheduled flight operations into the country. 
The airline's chief operating officer, Osita Okonkwo, confirmed the development in a statement by its spokesperson, Achilleus-Chud Uchegbu, in Lagos on Thursday.
Mr Okonkwo said the approval to fly into Ghana was communicated to the airline by the GCAA on July 13 in a letter with reference number: AIR/4203/087/008.
According to the letter, he said United Nigeria Airlines was approved to operate into the Kotoka International Airport, Accra, for cargo and passenger operations.
The airline chief said the director-general of GCAA, Capt. Charles Kraikue signed the approval, stating, "Approval is hereby granted United Nigeria Airlines Company Limited."
Mr Okonkwo said the approval came amidst preparations by the airline to also commence scheduled flight operations to unite travellers with Jos in Plateau, Abakaliki in Ebonyi.
According to him, other states are Edo, Borno, Oyo, Ilorin, Kano and Sokoto, the seat of the Caliphate.
He said: "The airline is also seeking approvals for the commencement of scheduled operations to N'Djamena in Chad, Libreville in Gabon, Malabo in Equatorial Guinea, Monrovia in Liberia and Banjul, The Gambian capital.
"Other cities of interest for the airline include Sao Tome, Kinshasa in the Democratic Republic of Congo, Congo Brazzaville and Douala in Cameroon.
"It has also applied for approval for cross-Atlantic operations to Amsterdam in the Netherlands, Rome in Italy, Dubai in the United Arab Emirates, Houston in the United States of America, Dublin, Ireland and London in the United Kingdom."
Mr Okonkwo said this was coming on the heels of acquiring wide-body aircraft, including Airbus, ERJ 175, and ERJ 190.
He said the aircraft would soon join the airline's fleet to power intercontinental and regional operations in an expansion project that would reposition it for improved service delivery across Nigeria, continental and intercontinental routes.
(NAN)