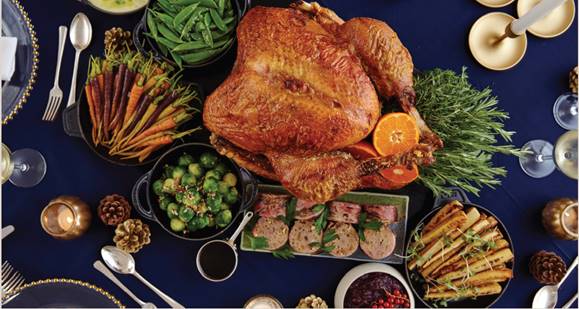 Sheraton Lagos Hotel and Sheraton Abuja Hotel are set to give their happy to announce that a delightful and enriching Christmas experience awaits all this season of cheer.
The General Manager of both Hotels in Nigeria, Barry Curran explained that the Christmas season at the hotels was a period for friends and families to connect truly spending the holidays to share gifts and enjoy delicious meals.
Both hotel teams have organized nights of spirit lifting Christmas caroling events, with the Lagos hotel featuring sonorous voices on the 23rd – 24th of December.
At Sheraton Lagos, celebrations will set off with a grand cocktail at our lobby for Marriott Bonvoy members on the 10th of December 2019 while Social media competitions will further ignite the season. Festive season room rates offers for Loyal Customers and Patrons will start from as low as NGN66,000 to set the holiday tone.
Our Heart melting Christmas meals will kick off with a special breakfast on the 25th of December from 06:00am and a spectacular Christmas day gala buffet lunch featuring a live band from 1pm; rates are inclusive of select non-alcoholic beverages. A delectable Christmas day dinner will lend more merriment to the day from 7pm.
Our sumptuous Boxing Day cuisine will be available on the 26 th December with breakfast from 06:00am, lunch from 12:00 noon and dinner from 7pm. To usher in the New Year with family and loved ones a New Year's Eve gala buffet dinner will be available on the 31 st December from 7pm with prices inclusive of select non-alcoholic beverage and a glass of champagne at 12midnight to light up the New Year.
New Year's day dinner will make a delightful entry from 7:00pm. For those interested in fine dining and 3 course meals at our Italian Restaurant, you are invited to join the special Christmas delights, Boxing Day and New Year's dinner for N16,500 inclusive of a complimentary glass of choice beverage.
The Hotel will reinforce the excitement of the season with delicious cakes on sale at festive prices starting from just N6,800; which you can enjoy with loved ones throughout the holidays. If you are visiting Abuja, we welcome you to drop by at Sheraton Abuja Hotel and experience the magic of the season. kids will have the gleeful opportunity to meet with Santa at his Grotto and cart with exciting gift items from the 13th of December from 11am at our Hotel Foyer for just N 2,500 Per child.
Our momentous Christmas day lunch at our Ladi Kwali Ball Room, 25th December awaits as you Join in the Yuletide Feast and relish our selection of tasty Christmas Specialty Buffet offerings; Starting at 12noon for just 12,500 per person (*Kids from 0-6 yrs. eat for free while 7-12 pay half price (one child per paying adult) A c omplimentary bottle of Non-alcoholic wine and a large bottle of water will be on offer for a group of four while a
Festive Room rates for those who wish to enjoy a holiday get-away will commence from the 20th of December from as low as N39,999 per adult, N44,999 for two adults and N70,000 (Junior Suite package) for a family of two adults and two children (Junior Suite package includes a range of privileges, while all rates are inclusive of 15% taxes and breakfast)
New Year's day, 1st January 2020, Brunch will be a transformative experience at the Papillon Restaurant as you start your culinary Year on the right note with a delicious and elaborate buffet spread from 12noon for just N 11,000 per person. (Kids from 0-6 yrs. eat for free while 7-12 pay half price (one child per paying adult)