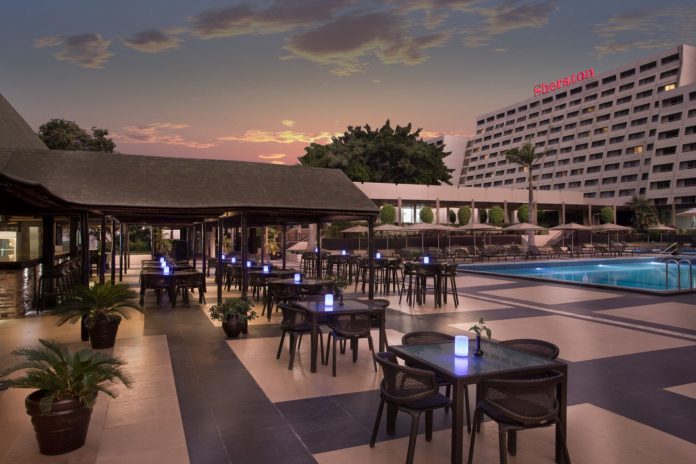 Sheraton Abuja Hotel happily invites patrons to celebrate Nigeria's 58th Independence with iconic experiences at the Hotel's Pool Bar & Restaurant.
"According to the General Manager of the Hotel – Nouman Irshad," 1st of October 2018 will
usher Nigeria into a new dynamic age. We will commemorate this at our Pool Bar and Restaurant where we will offer diners a 10% discount for the opportunity to taste a variety of traditional local favorites right from our African Pot."
"Our African Pot Menu is priced from as low as NGN1,000 and features an array of enticing
African delicacies from around the regions such as Asun (Peppered and Spiced Native Goat Meat originating from Western Nigeria) Zobo (Natural Hibiscus flower drink) Nkwobi (a specialty local goat meat meal from Eastern Nigeria) Masa (Pan fried rice cakes from Northern Nigerian ) Abacha (a delicious African salad from the East) Kunu (a naturally extracted milk from groundnuts, rice, tigernuts or millet from Northern Nigeria).
In the spirit of bringing people together and getting families and friends to relax and enjoy the independence daybreak; our customers will be sure to experience an enhanced range of entertaining African music at the Pool Bar and Restaurant.
"To further mark this occasion, the hotel invites guests to share our Independence Day National cake at the Hotel lobby."
"In line with unity, peace and progress; our Pastry Chef- Maroof and his dedicated team will cut the National day cake for the pleasure of our in-house guests and patrons as we welcome all those coming in through our doors," remarked the General Manager.