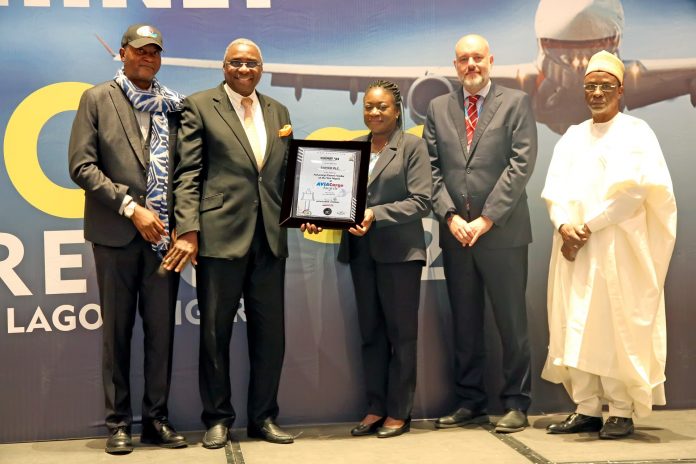 Skyway Aviation Handling Company (SAHCO) PLC has won the Aviacargo Export Handler of the year in Nigeria. This award was presented to SAHCO at the Chinet Aviation and Cargo Conference at the Lagos Marriott Hotel, Ikeja. Speaking during the award presentation, the Organiser of the Conference, Ikechi Uko praised SAHCO for their immense contribution to the growth of the Aviation and Cargo industry especially in the Agro-export sector.
The annual two-day event which was the 3rd edition of the Chinet Aviacargo conference was well attended by delegates from both the international and local aviation community and was geared towards discussing the challenges of the Nigerian agro-cargo industry and the solutions.
In addition, at the event the Managing Director/ CEO of SAHCO, Mr. Basil Agboarumi was presented with the Aviacargo Champion award for 2023, due to his continuous support to ensuring that the Aviation Cargo industry thrives despite all odds. Agboarumi who was represented by the Head, Corporate Communications, Mrs. Adetola Vanessa Uansohia, expressed his gratitude and said he is humbled and genuinely surprised at the award. He went on to say that the aviation industry can only thrive through the joint effort of all stakeholders and if everyone contributes their quota the sky would be the starting point for the aviation industry especially the agro-export industry in Nigeria.
He went on to say that as a company, SAHCO is always poised to always ensure a safe, efficient and speedy service by continually expanding and improving the facilities of its import and export warehouses and by procuring environmentally friendly ground support equipment. SAHCO owns Cool dollies to convey temperature-sensitive cargo from the aircraft to the data- logged cold rooms and freezers, thereby ensuring that there is no denaturing of the shipment. SAHCO has also shown that the
company is positioned to ensure that all types of cargo can be accepted and properly handled irrespective of the special handling that it requires through owning warehouses for Dangerous Goods, Live Animals, Human remains amongst others.