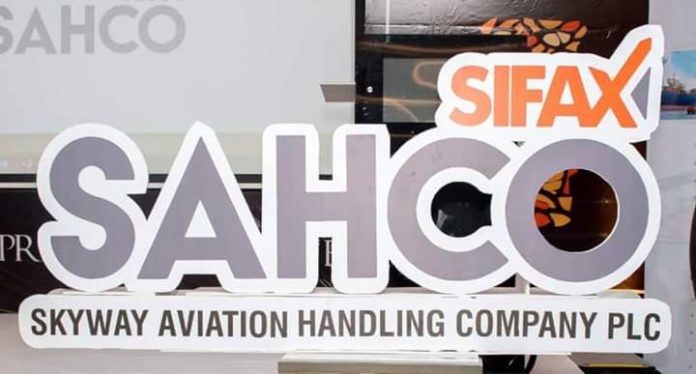 The Skyway Aviation Handling Company PLC (SAHCO) has been awarded the 'Best Ground Handling Company in West Africa'.
The award was given at the 5th edition of the Balafon Travel Awards held at La Palm Royal Beach Hotel, Accra, Ghana.
The award is to recognize individuals and corporate bodies who have excelled in Aviation, Travel and Tourism and who have contributed immensely to the growth of Aviation, Hotels Business, Tourism and Travels in West Africa.
According to the organizers, SAHCO bagged the award because of its outstanding activities in sustaining functional and efficient operations, adding value to cargo and the travel industry.
SAHCO has also been recognized due to the significant role it is playing in not only driving the aviation and cargo agenda of the organisation and country, but catalyzing the growth of tourism in the sub region and also helping forge ties between the countries in the sub region and Africa with a view to enhancing Regional tourism and global tourism.
The award, a segment of Accra Weizo which holds annually was instituted in 2009 by the publishers of ATQ News, is organized in partnership with AKWAABA African Travel Market.
At the event, the Managing Director of SAHCO, Mr. Basil Agboarumi who was representing the Vice Chairman of SAHCO, Barr Chike Ogeah, had a Paper presentation on 'Seamless Travel in West Africa: Challenges and prospects of inter-connecting West Africa'.
He spoke about how seamless travel is a major contributor to passenger experience and customer retention in Air Travel Market. He also said that other contributors are Civil Aviation rules, immigration processes, ticket fares and airport facilities.
Mr. Basil Agboarumi emphasized that a seamless travel experience in West Africa will be the beginning of open doors for the West African countries in terms of import and export.
Etihad Airlines had recognized SAHCO as the Best Handling Company in all its African and Indian Subcontinents stations overtaking the Indian Subcontinents for the first time.
This further testifies to the exceptional services rendered by the world class ground handling company that is ISAGO and RA3 certified.
DHL Aviation has similarly endorsed SAHCO during its ground handling quality, safety and performance audit of 2019 as 'a complete and very professional ground service provider'.