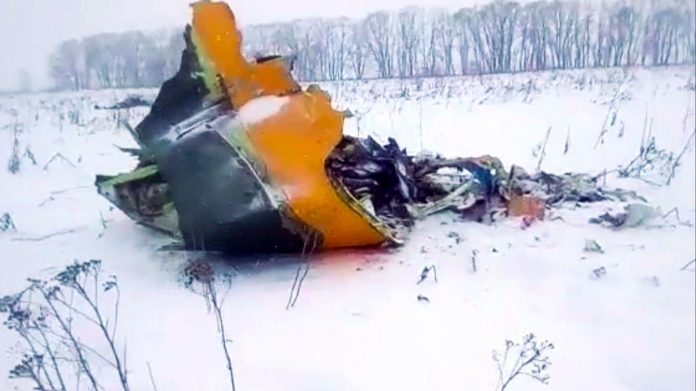 The crew of the Saratov Airlines flight that crashed near Moscow on Sunday didn't report any problems before the plane crashed into snowy terrain, killing all 71 people on board, state-run media said.
The Antonov An-148 aircraft was carrying 65 passengers and six crew members, the Russian news agency Interfax said. The passengers included three children, ages 5, 13 and 17, state news agency RIA reported.
The plane was headed to the Russian city of Orsk, near the border with Kazakhstan. But it disappeared from radar shortly after takeoff from Moscow's Domodedovo Airport, Russian state news agency Tass reported.
The plane went down in Ramenskoye District, in the Moscow region, the Russian emergency ministry told CNN.
"The snow is very dense … the Moscow region has had some of its heaviest snowfall in decades," CNN's Matthew Chance reported from Moscow. "It's not clear at this stage whether weather was factor in this crash."
Both flight recorders from the plane were in the hands of investigators Monday.
The onboard voice recorder for cockpit conversations was found Monday in "satisfactory condition," an emergency representative at the crash site told RIA.
The other device on the aircraft — the flight data recorder registering details such as speed and altitude — was recovered on Sunday.
The cause of the crash remains uncertain. The Investigative Committee of Russia said officials have launched a criminal investigation, as all possible causes are being explored.
In a statement, the White House said the United States "is deeply saddened by the tragic deaths" of the Saratov Airlines passengers and crew. "We send our condolences to the families of those who lost their lives and to the people of Russia," the statement said.
CNN