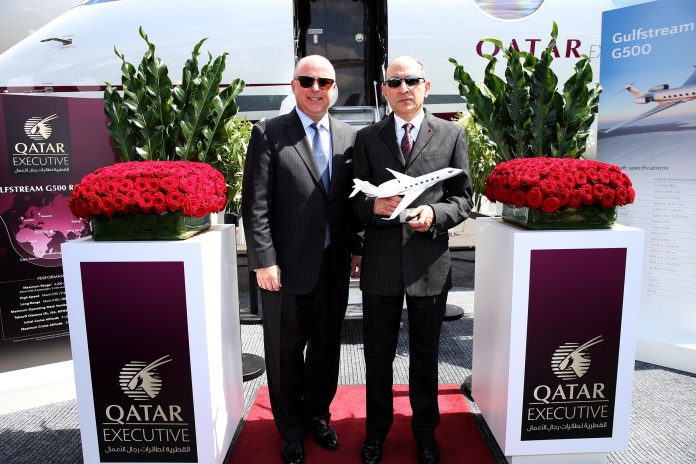 Qatar Executive, the private jet charter division of Qatar Airways Group, proudly unveiled its brand-new executive jet, the Gulfstream G500, on the opening day of Farnborough International Airshow.
The G500 jet will be one of the fastest and most technologically advanced aircraft in the Qatar Executive fleet when it enters service later this year. The G500 cabin will also set new industry benchmarks as one of the quietest in the industry, as well as having the best cabin altitude pressure, allowing for unparalleled passenger comfort.
The all-new G500 aircraft will officially join Qatar Executive's fleet by the end of this year, and will mark the beginning of an agreement that was initiated in October 2014, between Qatar Airways and Gulfstream Aerospace Corp.
Qatar Airways Group Chief Executive, His Excellency Mr. Akbar Al Baker, said: "We are tremendously excited to be unveiling our first Gulfstream G500 jet at this year's Farnborough International Airshow. With its many advanced features, this ultra-modern aircraft will enable us to offer our global clientele unprecedented levels of service. The G500 also demonstrates our commitment to continuing to expand the Qatar Executive fleet, in line with our accelerated growth strategy, enabling us to exceed our clients' expectations time and time again."
Gulfstream President, Mr. Mark Burns, said: "We are excited to join Qatar Executive as they showcase their first G500 at Farnborough. The G500 ushers in a new standard of business-jet travel for passengers and pilots, and we look forward to continuing our partnership with Qatar Executive as their G500 aircraft enters service later this year."
The G500 is powered by the next generation Pratt & Whitney Canada PW800 engines, optimised for high-altitude, fast and long-range jets. In addition to being one of the quietest and most efficient jets in the industry, the aircraft's remarkable range makes it capable of travelling non-stop from Istanbul to Cape Town; Los Angeles to London; and San Francisco to Tokyo. The cabin contains the most advanced technology including satellite communications, high-speed internet, the Oryx One entertainment system, wireless local area network and Gulfstream's Cabin Management System, which allows passengers to use their own personal electronic devices to control audio, video, lighting, temperature, window shades and other cabin functions.