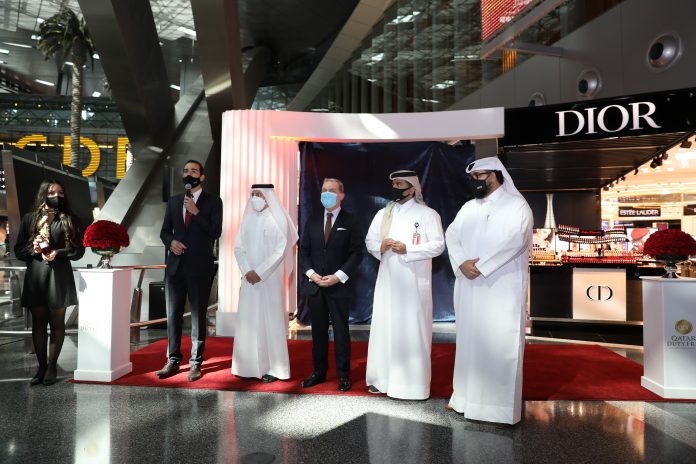 Qatar Duty Free (QDF) has announced the worldwide exclusive launch of Tobacolor at a grand unveiling ceremony at the Dior boutique at Hamad International Airport. Tobacolor – an oud, inspired by notes and tones from the Middle East – marks the first-ever launch of a Maison Christian Dior fragrance within travel retail and will be exclusively available at QDF during February before becoming available worldwide.
The official reveal of Tobacolor was celebrated at a unveiling ceremony at HIA. The event was attended by VIP guests and officiated by Qatar Airways Group Chief Executive, His Excellency Mr. Akbar Al Baker, Hamad International Airport Chief Operating Officer, Engr. Badr Al Meer, Qatar Duty Free Vice President Operations, Mr. Thabet Musleh, Mr. Frank Dagher, General Manager Travel Retail, LVMH Perfumes and Cosmetics, and the French Ambassador to Qatar, H.E. Mr. Franck Gellet.
As part of its position within a powerful trinity of a retailer, an award-winning airport, and a global airline, QDF is uniquely positioned to partner with travel retail brands to launch products and services, bringing exclusive experiences to customers.
His Excellency Mr. Akbar Al Baker said: "I am delighted to unveil a worldwide exclusive for our trinity of Qatar Duty Free, Hamad International Airport, and Qatar Airways, in partnership with Dior. Product exclusives are an important part of our world-class retail offer – giving our passengers yet another reason to fly with us via the Best Airport in the Middle East."
HIA and its award-winning partner, Qatar Duty Free (QDF), have developed pioneering partnerships with leading luxury brands to bring travellers the world's best in airport entertainment, leisure, and attractions.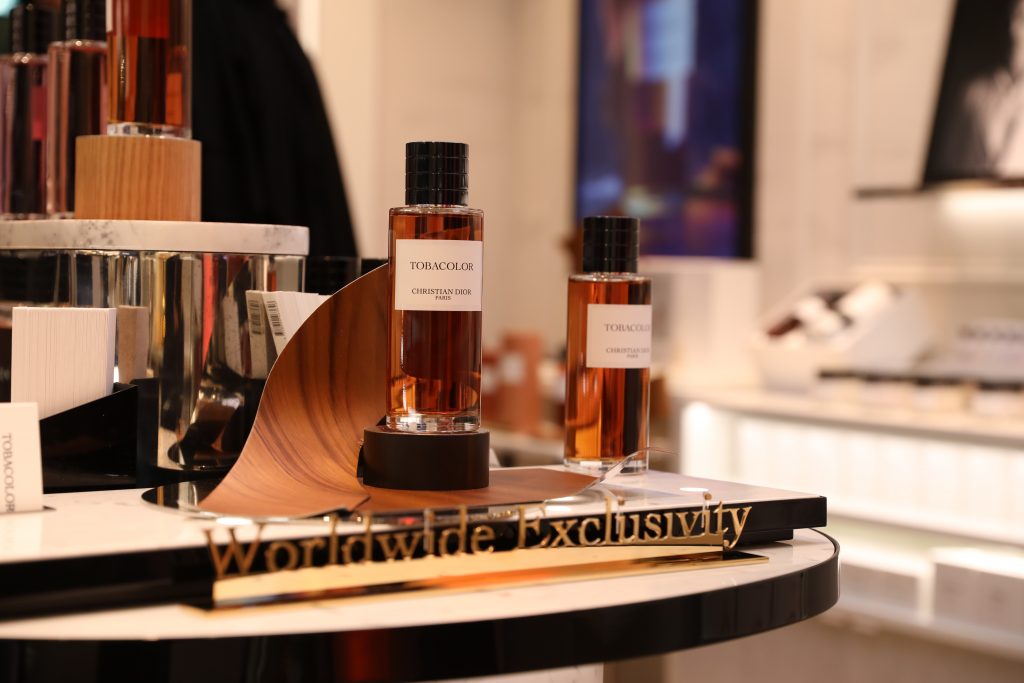 Mr. Thabet Musleh said: "We are proud to once again partner with Maison Christian Dior to launch their latest fragrance, Tobocolor, at Qatar Duty Free as a worldwide exclusive. We are delighted to be uniquely positioned to work with our brand partners to bring amazing and unique personalised experiences to our customers at every stage of their journey."
Frank Dagher, General Manager Travel Retail, LVMH Perfumes & Cosmetics, said: "At Christian Dior, we have always been passionate about perfume, and it is part of our history. In addition to our love for fragrances, we have built a unique relationship with the Qatar Airways group for many years now. Today I am delighted to be here with you to launch officially the worldwide exclusivity of Tobacolor, the latest iconic fragrance from Maison Christian Dior, created by François Demachy, our Perfumer-Creator."
Passengers flying with Qatar Airways in February will receive personalised invites to visit the Dior boutique to discover Tobacolor and are offered a complimentary engraving on the purchase of any 250 ml bottle of the Maison Christian Dior fragrance.
The airline's Premium Class passengers are also invited to collect a discovery size bottle of Tobacolor from the boutique. For those looking for a unique gift, all travellers passing through HIA can purchase customised 'Qatar' gifting sets featuring Arabic calligraphy along with their purchase of the Tobacolor fragrance.